Risk Management
At the Daiwa Securities Group, we believe that, at the same time as pursuing profitability and growth, it is important that we appropriately recognize and evaluate various risks associated with our business and effectively manage them. We will maintain a sound financial structure and profit structure with well-balanced risk and return, and manage risk appropriately to improve our corporate value in a sustainable manner.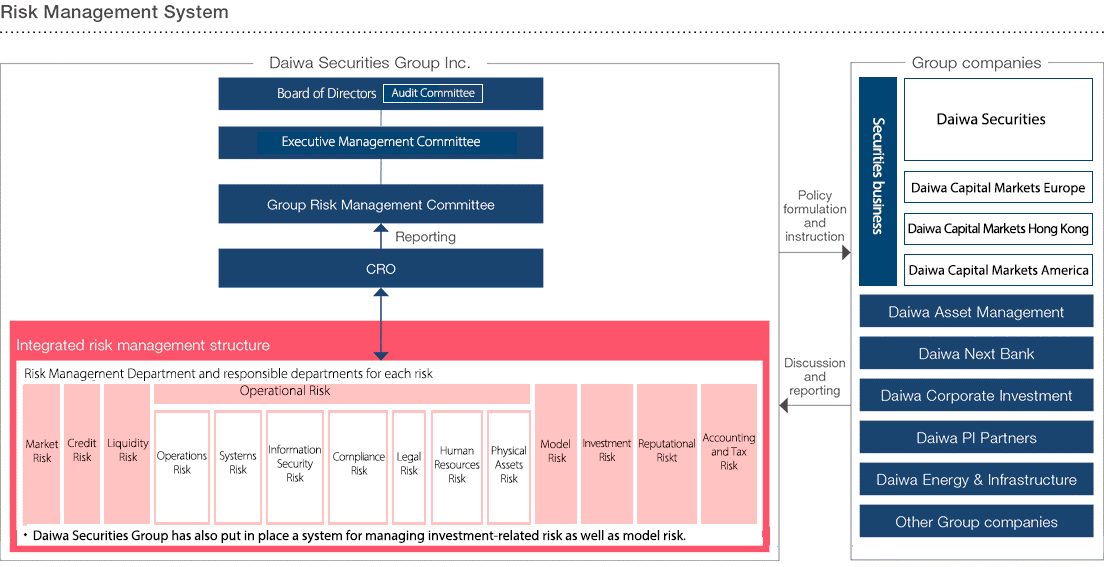 The Board of Directors of Daiwa Securities Group Inc. decides the risk management regulations, which stipulate the basic risk management policy, the types of risks to be managed, and the officers and departments responsible for each major risk in order to manage the risk of the entire Group based on RAF. In addition, in order to build an effective risk governance system, we have defined "Guidelines for the 'three lines of defense'" and have established a risk management framework.
Basic policy set by Daiwa Securities Group's risk management regulations
1.

Active involvement of management in risk management

2.

Establish a risk management system according to the characteristics of the risks held by the Group

3.

Understand the overall risk based on integrated risk management, enhance owned capital, and secure soundness related to liquidity

4.

Clarification of risk management process
Based on the basic risk management policy, each Group company carries out risk management according to the risk characteristics and scale of each business. The Risk Management Department of Daiwa Securities Group Inc. and the departments in charge of each risk monitor the risk management system and risk status of each Group company. In addition to the risk status of each Group company, which is grasped through monitoring, the risk management issues at each company are reported to the Group Risk Management Committee, a subcommittee of the Executive Committee of Daiwa Securities Group Inc., for discussion and decision-making. Risk management meetings are held regularly at major subsidiaries to strengthen risk management.
Types of risks to be managed and management system for each major risk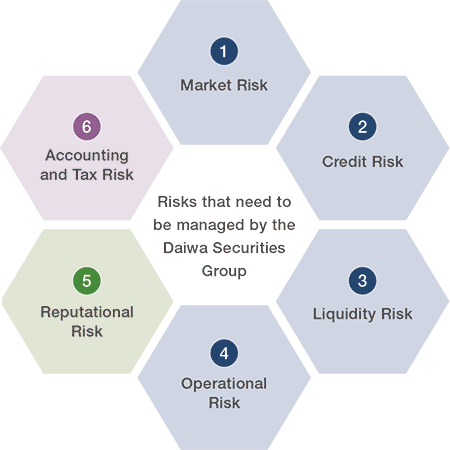 There are various types of risks in the businesses that the Group operates. In order to maintain a sound financial and profit structure, we believe that it is important to recognize these risks based on the business characteristics and risk profile and manage them based on appropriate evaluations.
The risks of particular importance to the Group are those associated with our core securities business. The Group uses its own account to temporarily hold product positions for sales. In order to provide products to customers, market risks due to market fluctuations, liquidity risks including foreign currencies, credit risks to business partners and issuers, risks for which hedging is not possible, and inevitable operational risks in business execution occur. We conduct integrated risk management by measuring the effect on capital and liquidity within the Group from a forward-looking perspective.
(1) Market risk management
Market risk is the risk of loss due to fluctuations in market prices such as stocks, interest rates, foreign exchange, and commodities.
In the trading business of the Group, in addition to gaining equivalent value by providing market liquidity, market risks are incurred through holding certain financial assets. The Group implements hedging as appropriate to control fluctuations in profit and loss, but hedging may not function effectively in times of stress. Therefore, we consider the financial situation and the business plan/budget of the relevant department and set the respective limit so that the loss estimates calculated from VaR (Value At Risk)*1 and various stress tests *2 fall within the range of owned capital. In addition, we set limits for position, sensitivity, and other factors.
The department in charge of trading of the Group conducts monitoring by calculating positions and sensitivities in order to understand our own market risk. At the same time, the Risk Management Department also monitors the status of market risks, confirms whether it is within the set limits, and reports to management on a daily basis.
*1

Maximum amount of loss statistically expected within a certain probability range due to future price fluctuations, assuming that a certain position is held for a certain period of time

*2

Calculating the amount of significant loss for the Group that can occur according to scenarios based on large past market fluctuations or hypothetical stress events.
(2) Credit risk management
Credit risk is the risk of loss due to defaults or changes in creditworthiness, etc. of financial transaction partners or issuers of financial instruments that we hold. Credit risk in the trading business of the Group includes trading partner risk and issuer risk.
As the Group provides products, and manages and invests assets, there is the risk that various product and transaction exposures will be concentrated in a particular group of trading partners. If the credit status of the relevant trading partner group deteriorates, a significant loss may occur. Therefore, we set a limit on the total exposure to a single trading partner group and monitor it regularly.
Supplier risk
The Group sets an upper limit on the amount of credit that can be accepted for a trading partner group and monitors it regularly.
Issuer risk
We also monitor the amount of credit risk of the issuers of financial instruments held as a result of our market making activities.
Daiwa Securities Group (Consolidated) VaR (Value at Risk)
VaR Scope and Assumptions
Target: Trading accounts
Confidence level: 99% on one side, holding period: 1 day
Consider the correlation of price fluctuations between products
(Billion yen)
17/6
17/9
17/12
18/3
18/6
18/9
18/12
19/3
VaR (end of month)
1.29
1.16
1.93
1.13
1.34
1.39
1.76
1.06
Quarter
Maximum value
3.41
4.19
2.00
2.03
1.80
1.67
1.87
2.29
Minimum value
1.28
1.16
1.06
1.07
1.16
1.15
0.95
0.86
Average value
2.59
2.29
1.34
1.46
1.40
1.36
1.34
1.45
By risk factor (End of month)
Stock
0.34
0.43
0.68
0.28
0.65
0.51
0.40
0.29
Interest rate
1.40
1.15
1.43
1.06
1.21
1.23
1.68
1.06
Exchange
0.20
0.15
0.21
0.21
0.16
0.17
0.24
0.18
Commodities
0.06
0.00
0.00
0.00
0.00
0.00
0.00
0.00
* Market risk management and credit risk management other than trading operations
In addition to trading operations, the Group holds assets such as operating investment securities in investment operations, loans and securities in banking operations, and investment securities for trading purposes. Market risk and credit risk also occur with these assets, but since each business has its own risk characteristics, we manage risk according to those risk characteristics.
(3) Liquidity risk management
Liquidity risk is the risk that cash flow will be hindered by changes in the market environment or deterioration of the financial condition of any of the companies of the Group. It also refers to the risk of loss due to being forced to raise funds at a significantly higher cost than usual.
The Group conducts business centered on securities-related services using many assets and liabilities. We strive to secure stable funds during normal times so that our business continuity will not be impeded even when the environment changes significantly. At the same time, since we assume that it will be difficult to procure new funds or re-procure existing funds at times such as the occurrence of a crisis, we work to diversify the redemption deadlines of procurement funds and procurement sources.
Liquidity management system using liquidity management indicators
Daiwa Securities Group Inc. has established its own long-term and short-term liquidity management system in addition to the regulatory consolidated liquidity coverage ratio applied to the Group.
In our short-term liquidity risk management, we assume various stress scenarios for the unsecured funds that are due within a certain period and the expected amount of cash outflows when stress occurs during the same period. We then confirm that we have a liquidity portfolio that can cover these scenarios on a daily basis. In our long-term liquidity risk management, we measure and monitor the adequacy of our long-term financing situation, assuming that a stress environment continues for a long period of one year or more. We then work to ensure that we can continue our business even if we cannot raise unsecured funds for one year.
Furthermore, the Group is aware that if liquidity risk becomes material, it may directly lead to the bankruptcy of financial institutions. We have therefore established a Contingency Funding Plan that defines in advance the measures, roles and authorities, and procedures to be implemented so that the Group can works together to respond appropriately during a liquidity crisis. This plan establishes policies such as securing a reporting system and financing means according to the degree of stress caused by internal factors such as deterioration of creditworthiness and external factors such as turmoil in financial markets. As a result, the Group has a system in place to ensure liquidity in a flexible manner.
(4) Operational risk management
Operational risk is the risk of loss resulting from improper or non-functioning internal processes, people, or systems, or from the occurrence of external events.
Definitions of key operational risks
| Type | Definition |
| --- | --- |
| Office risk | Risk of loss due to officers and employees failing to perform accurate office work or causing accidents or fraud |
| System risk | Risk of loss due to computer system shutdowns or malfunctions, system defects, and loss due to unauthorized use of computers |
| Information security risk | Risk that information security (maintaining confidentiality, integrity, and availability) is not ensured due to the emergence of threats to information assets |
| Compliance risk | Risk of loss due to non-compliance to corporate ethics and legal regulations by officers and employees, risk of loss due to legal disputes with customers or other parties in Japan |
| Legal risk | Risk of loss due to signing of improper contracts, breach of contract, legal disputes with customers or other parties related to overseas branches. |
| Human risk | Risk of loss due to labor management and workplace safety/environmental problems, risk of not being able to secure necessary human resources |
| Tangible asset risk | Risk of loss due to damage to tangible assets as a result of natural disasters, external factors or negligence of officers and employees |
The Group classifies operational risks into the seven types shown in the table above, and defines and manages departments in charge of each risk. Various risks have arisen with the sophistication and diversification of our operations and the progress of systemization, and the importance of operational risk management is increasing year by year.
Based on the operational risk management regulations of Daiwa Securities Group Inc., major Group companies of the Group conduct RCSA (Risk Control Self-Assessment) and other appropriate operational risk management activities. In addition, we are taking necessary measures such as stricter authority, mechanization of paperwork to reduce human error, and maintenance of business manuals, and we are working to reduce operational risk according to the business characteristics of each Group company.
* RCSA
RCSA is a process to identify, understand, and evaluate operational risks using a prescribed risk evaluation sheet, analyze risks from the frequency of occurrence and the degree of impact, and evaluate and verify the effectiveness of risk mitigation measures, etc.
(5) Reputational risk management
Reputational risk is the risk that the trust, reputation, or evaluation of the Group declines due to rumors or incorrect information about the Group and causes unexpected loss and negative impact, etc. on the behavior of the Group's business partners. The management method is not always uniform because reputational risk can be caused by various events.
The Group has established various regulations based on the Disclosure Policy, especially from the viewpoints of information management and provision of information, and has established the Disclosure Committee at Daiwa Securities Group Inc.
Each Group company is obliged to report to the Disclosure Committee information that may cause a reputational risk. Daiwa Securities Group Inc. collects and centrally manages information, and the committee makes decisions to disseminate information in a timely and accurate manner.
In addition, in the event that such a risk occurs, in order to minimize the impact on the Group, we have established a PR and IR activity system to prevent risks and minimize them. Through this system, we will endeavor to understand the status of problems and events related to the reputational risk, make appropriate corrections to errors and inaccurate information, and take appropriate measures against slander.
(6) Accounting and tax risk management
Accounting/tax risk is the risk that proper accounting/disclosure or proper tax filing/payment is not made in light of standards or legal regulations in accounting or tax, and the risk of loss resulting from this.
The Group strives to reduce accounting risk by establishing, operating, and improving internal control over financial reporting in accordance with the basic rules for internal control over financial reporting.
In addition, by notifying major Group companies of matters that need to be reported for tax risk management and receiving them in a timely manner, we can properly understand the tax risk management system and risk status of the entire Group and strive to reduce tax risk.
* Tax Policy
The Daiwa Securities Group has established the "Daiwa Securities Group Tax Policy," which serves as a tax code of conduct and judgment criteria in order to improve tax corporate governance.
Daiwa Securities Group Tax Policy
1.

Daiwa Securities Group complies with laws and ordinances, and contributes to the sustainable development of society through appropriate tax payments with high ethical standards.

2.

Daiwa Securities Group rewards our shareholders by achieving sound profits based on proper and fair tax planning.

3.

For cross border intra-Group transactions, Daiwa Securities Group sets an appropriate price, which achieves adequate accountability under transfer pricing tax regulations.

4.

The Chief Financial Officer (CFO), executive officer in charge of Finance, and Head of Finance Department of Daiwa Securities Group Inc. from time to time provide guidance and advice to subsidiaries and other departments within the Group as necessary, so that corporate governance over tax matters is shared and implemented throughout the Daiwa Securities Group.