Health Management
Included in the Group's Corporate Principles is "placing importance on personnel." Based on the idea that the source of the Group's competitiveness lies in the capabilities of its employees, we seek to raise productivity by enhancing employees' well-being* and to maintain high performance as an organization in the future. To this end, we are undertaking strategic measures to promote heath management.
*

Well-being: good physical, mental, and social condition
The Group appointed the executive in charge of human resources as Chief Health Officer (CHO) to promote health management. Executives from each Group company are also actively involved in the promotion. The Group issues a "White Book on Health" annually that analyzes the health status of all Group executives and employees. We also identify issues, and evaluate and improve our initiatives at a Group-wide "Promote Health Management Meeting" chaired by the CHO which is held every quarter, thereby implementing the PDCA cycle for health management.
As a result of these initiatives, we have been selected as a "Health & Productivity Stock," which is jointly organized by the Ministry of Economy, Trade and Industry and the Tokyo Stock Exchange, for eight consecutive years.

Also, the Human Resources Department, General Health Development Centers (infirmaries), and Health Insurance Society closely cooperate and work together. The three parties collaborate with each other, planning and disseminating health measures, and have increased the effectiveness of such measures by exchanging opinions on a daily basis.
Main achievements
External Evaluations
FY2008

Started specific counseling guidance (metabolic syndrome guidance)
The Human Resources Department, General Health Development Center, and Human Resources Department started working together to promote health

FY2009

Introduced a system for checking past health checkup results and various health information online
Started following-up with persons with possible medical issues with the "yellow paper" system

FY2010
Started walking and quit smoking challenges
FY2011
Started "Eating to 80% full" (Harahachi) campaign
FY2012
Started Red Case Support Program (for severely ill persons)
FY2013
Received the Minister of Health, Labour and Welfare "Extending Healthy Life Expectancy Award"
FY2014
Our Group's efforts were published in the " Ministry of Health, Labour and Welfare White Paper"

FY2015

Started point incentive *

*

Points are given to self-help efforts for employee health promotion.
When the points reach a certain level, it is reflected in the employee's salary after age 55

Appointed Human Resources Officer of Daiwa Securities Group Inc. to "Chief Health Officer (CHO)"
Implementation of "Promote Health Management Meetings"
Established "Health Management Promotion Section" in the Human Resources Department of Daiwa Securities Group Inc.
Issued "Daiwa Securities Group White Book on Health"

FY2016
KA-RA-DA iki-iki Project Introduction

Ministry of Health, Labour and Welfare-commissioned project "Cancer Measures Promotion Company Action"
Received the Minister of Health, Labour and Welfare Award for companies promoting cancer control

FY2017
Introduced Employment Support Plan for Employees with Cancer

Received the Tokyo Metropolitan Government "Company Award for Excellent Initiatives for Balancing Treatment of Cancer Patients and Work"

FY2018
Introduced Daiwa ELLE Plan

FY2019

Introduced a new health checkup plan (a system that allows people to have a cancer checkup together with their regular health checkup, specific counseling guidance using ICT, online health consultation by a doctor)
Started health promotion measures for young customers (fitness app, counseling guidance for people in their 20s and 30s)

FY2020
Introduced Daiwa Online Care

FY2021

Mindfulness Training for New Employees in Cooperation with Keio University
Introduced smoking cessation during working hours

Selected as "Health & Productivity Stock Selection 2021" and "Excellent Health and Productivity Enterprise (White 500)"
To measure the improvement of productivity through health management, we use presenteeism*1 and absenteeism*2 as indicators.
| Indicator | Target (FY2030) |
| --- | --- |
| Percentage of loss from presenteeism | Less than 10.0% |
| Average of absenteeism | 3.0 days or less |
*1

The state of the employee's work execution ability and productivity declining as a result of coming to work while suffering from some disease or symptom. Calculated by conducting a survey in which employees evaluate their own work in the past four weeks with the work they can perform when having no illness or injury set at 100%. The smaller the value, the higher their productivity.

*2

The state of being absent or on leave due to illness. Calculated by conducting a survey that asks how many days employees were absent due to illness in the past one year. The fewer the days, the higher their productivity.
Various Health Measures, Their Effects, and Connections with Management Goals Pursued in Health Management (Strategy Map)
As the obesity rate tends to increase with age, it is necessary to increase health awareness when people are still young. The younger generation, in particular, has lifestyle issues, such as a high smoking rate in men and upward trends in the rate of skipping breakfast observed in both men and women. This suggests that measures to maintain a proper lifestyle are important, along with obesity measures.
As for the risk of lifestyle-related disease, the number of people with the level of risk requiring specific counseling guidance is trending upward gradually both in men and women.
| Key area | Health issue |
| --- | --- |
| Lifestyle | Decreasing employees with health risk (obesity and high blood pressure, in particular) and establishing a healthy lifestyle (smoking, exercise, eating habits, better quality of sleep, etc.) |
| Younger generation | Improving the health awareness and health literacy of the younger generation |
| Women | Addressing health issues specific to women, increasing opportunities for women's advancement |
| Cancer | Early detection and early treatment of cancer, support for balancing work and cancer treatment |
| Mental health | Acquiring stress handling skills, early detection of mental health problems |
Examples of Major Initiatives and Results of Initiatives
Increased Use of Daiwa Online Care
We offer "Daiwa Online Care," an online healthcare service that is available nationwide, and the use of the service is expanding. The number of appointments for the service was 973 in FY2021, increasing 1.6 times from the previous fiscal year.
Daiwa Online Care provides consultation on health checkup results and mental health, and smoking cessation outpatient care, in addition to ordinary healthcare. (Costs to be borne are healthcare service fees and medication costs only.)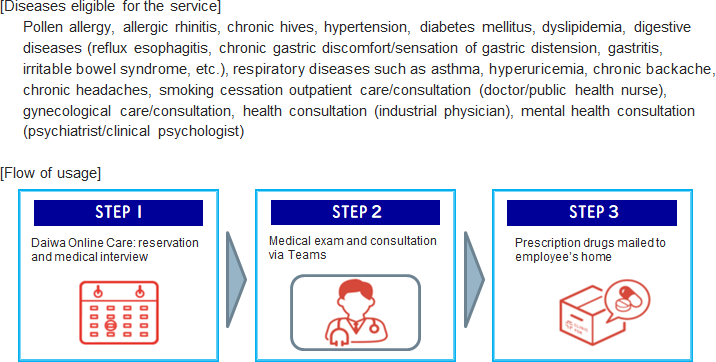 Daiwa ELLE Plan
Women have various health issues depending on their life stage, and the national government encourages men and women to deepen their understanding of each other's health issues associated with gender differences, while promoting health support that takes gender differences into account. Against this background, we have provided women's menopause support, established ELLE leave (leave for menstrual/menopausal conditions or infertility treatment), improved employee health literacy, and enhanced support for balancing work and infertility treatment. As a result, various effects have been shown, such as improved productivity, reduction in the rate of employee turnover due to infertility treatment, and increase in women in managerial positions.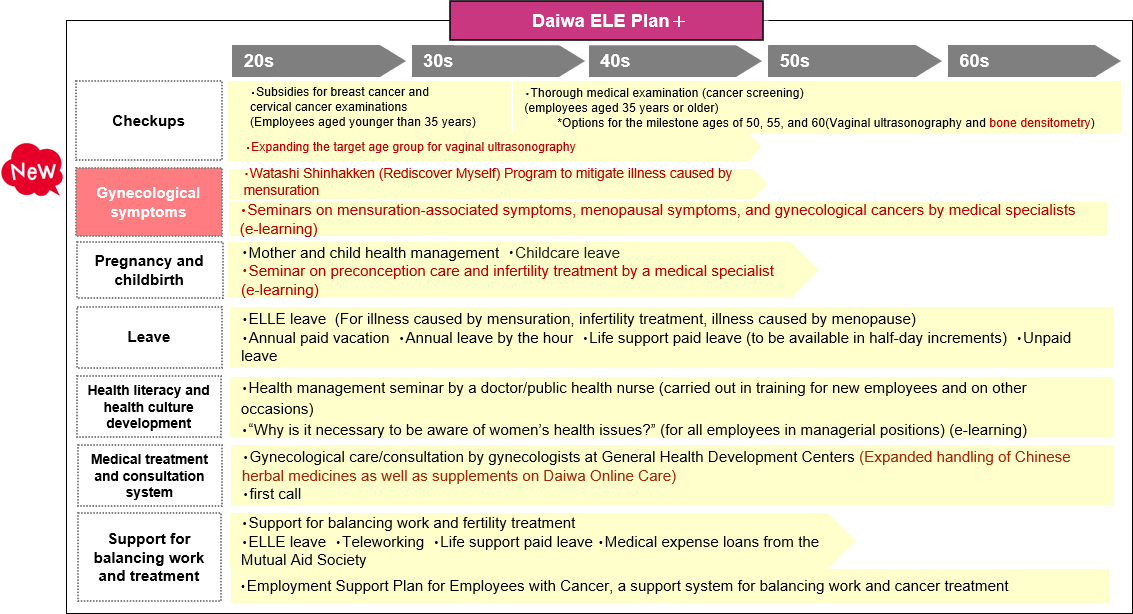 *

The symbol ◎ in the table indicates systems and measures that can be used regardless of gender
Continuous Improvement in Female Cancer Screening Rate
Since FY2019, cancer screenings have been integrated into the regular health checkup items, resulting in a substantial improvement in the screening rate. The proportion of female employees receiving the most recent cervical cancer screening and breast cancer screening exceeds 80% for both types of screening.
Trends in female cancer screening rate (younger than age 35)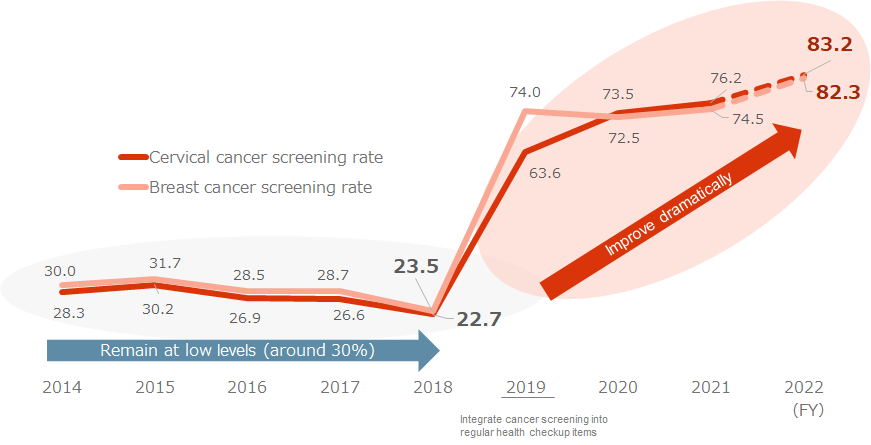 Upward Trend in Younger Generation with Exercise Habits
The proportion of young employees (in their 20s and 30s) with exercise habits is consistently increasing, for both men and women. The upward trend continued even during the COVID-19 pandemic in 2020, and we consider this to be due to BeatFit, a fitness app introduced in 2019, helping to attract employees were not in the habit of exercising.
We also urge employees to participate in KA-RA-DA iki-iki Project* and continue to enhance their awareness of healthy lifestyles.
*

The amount of investment in KA-RA-DA iki-iki Project is approximately ¥2.30 million. In a survey of participants, 27% of the respondents answered that they were "very satisfied" and 55% "satisfied."
Proportion of employees with exercise habits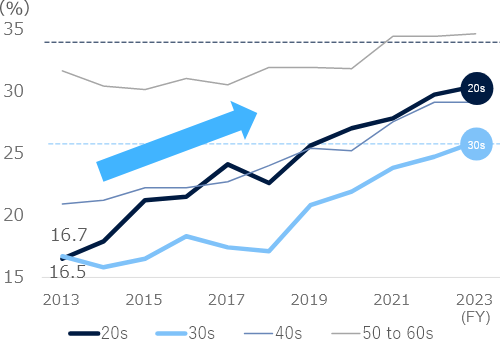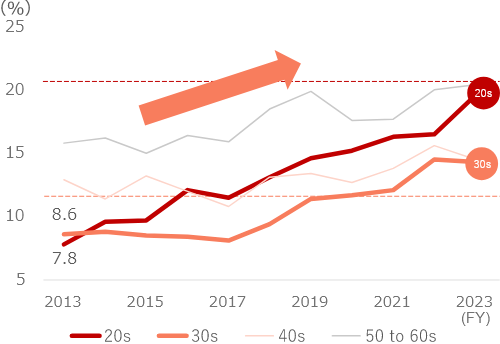 * The proportion of respondents who answered in an interview sheet that they have "engaged in at least 30 minutes of exercise causing light sweating twice or more per week for more than one year."
Expansion of Mental Health Support (Mindfulness Training)
Generally, employees in their first and second years are more likely to feel stress under a new environment. We have therefore introduced Mindfulness Training for new employees as an initiative for mental health. The training is provided in collaboration with the Center for Stress Research, Keio University and customized to the Group. For the employees completing Mindfulness Training, we also conduct follow-up training at the fiscal year end.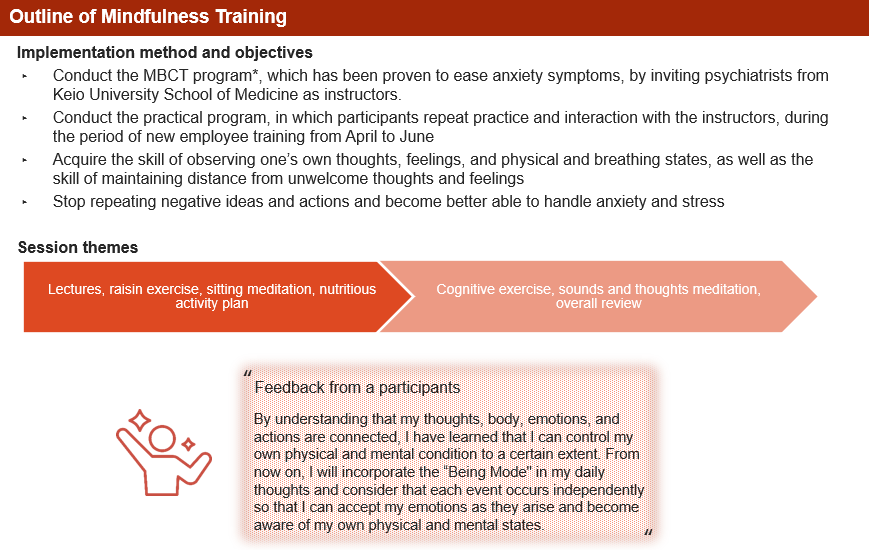 *

MBCT program (Mindfulness-based cognitive therapy)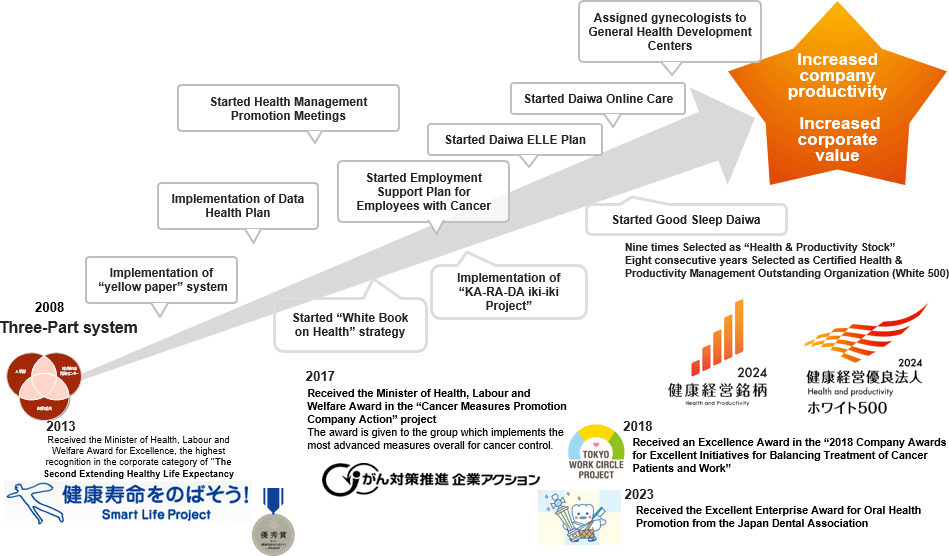 *

We are explaining the group's health management initiatives to business partners who have made inquiries.
FY2019
FY2020
FY2021
Obesity rate (30s)*1
Men
25.8%
27.5%
25.5%
Women
8.5%
10.0%
9.3%
Smoking rate
Men
31.6%
29.5%
28.7%
Women
7.2%
7.1%
6.6%
Exercise habits rate
(20s)
Men
25.3%
27.0%
27.8%
Women
14.6%
15.2%
16.2%
(30s)
Men
20.8%
21.9%
23.1%
Women
11.4%
11.7%
12.0%
Proportion of employees taking enough rest through sleep
65.0%
69.0%
69.0%
Average percentage of loss from presenteeism
18.7%
17.0%
15.2%
Average of absenteeism
3.8 days
3.4 days
3.4 days
Engagement survey*2
-
-
81%
Work Motivation Survey*3
Work
3.3
3.3
3.3
Organization
3.2
3.2
3.3
Colleagues
3.2
3.2
3.3
Growth / Career advancement
3.2
3.2
3.3
Compensation
3.0
3.0
3.1
Female ratio in managerial positions
(consolidated)
11.9%
13.7%
15.1%
(Daiwa Securities alone)*4
14.5%
16.3%
18.3%
Stress check rate
92.5%
90.8%
91.8%
Ratio of employees with high stress
10.3%
11.8%
10.6%
Regular health checkup rate
100%
100%
100%
Medical institution attendance rate for employees with problematic results in regular health checkups
88.3%
80.5%
82.2%
*1

Target: Reduce the obesity rate for employees in their 30s by 30% from FY2018 by 2024 (men 20%, women 8%). From FY2021, the target was changed from the obesity rate at age 35 to the obesity rate for employees in their 30s.

*2

Sustainable engagement (Daiwa Securities alone). An anonymous awareness survey started to be conducted for Daiwa Securities alone in FY2021 to determine the proportion of employees who have a sense of trust in the Group and are highly motivated to contribute to achieving its goals. The survey is being conducted on a group-wide basis from FY2022.

*3

Ended in FY2021.

*4

Target: At least 25% by 2025.