Diversity and Inclusion
Encouraging Women to Succeed
Daiwa Securities Group proactively appoints talented human resources regardless of gender. We are trying to appeal more to women's individual interests by introducing thriving female employees as role models in internal publications in order to increase the number of women in managerial positions. A career consultation service has been set up on the Group's internal WLB promotion website. Female executives as well as heads of each department, office, and branch give advice on the concerns and inquiries of female employees.
In 2015, the current Chairman of the Board of Daiwa Securities Group Inc. showed his support for the "Declaration on Action" by a group of male leaders who will create "A Society in which Women Shine" spearheaded by Japan's Gender Equality Bureau Cabinet Office.
See also Work-Life Balance for more information on promoting women's activities.
Targets Related to Initiatives for Empowering Women
Daiwa Securities Group has a proven track record of implementing a wide range of initiatives that help female employees reach their full potential. At Daiwa Securities, we have set specific targets for the years through FY2020. In this manner, positive steps are being taken to provide an environment in which employees with diverse values can maximize their capabilities.
Targets for Years through FY2020 (Daiwa Securities)
Ratio of women in managerial positions: At least 15%, a more than fivefold increase from the FY2005 level
Ratio of women in new graduates recruited: 50% (stable)
Ratio of women among participants in training: 50%
Rate of taking annual leave: At least 70%
Rate of taking childcare leave for male employees: 100%
Support for Female Employees' Career Advancement
By increasing the number of role models, we are making it easier for the Group's female staff to envision their career path. In this context, there has been a sharp increase in female employees aspiring to advance their careers by switching to career-track and regional career-track positions in recent years.
To date, more than 1,400 female employees have converted to career-track positions. An increasing number of employees have also taken advantage of our Professional Return Plan, a system for re-hiring employees who left work to raise children or care for family members, starting them at the same level of compensation as when they left. The scope of this system was expanded in FY2015. This has helped us to secure talented personnel who support business operations. The number of female employees right before being promoted to managerial positions is 2,225 at the end of June 2020, substantially increasing from 1,093 in 2005.
We also launched a career support training initiative for female employees (Daiwa Woman's Forum) in FY2014, and a program for women in managerial positions (Daiwa Woman's Management Forum) in 2018. These programs have contributed to building networks among women.
Appointment of Female Executives and Women in Managerial Positions
Daiwa Securities Group has a total of nine women in top managerial positions who work as directors, corporate executive officers, and executive officers. They include three female executives serving as directors and corporate executive officers at Daiwa Securities Group Inc. The number of women in managerial positions is increasing year by year, with the Group's total number standing at 666 as of the end of June 2020. The ratio of women in managerial positions has risen from 2.2% at the end of FY2004 to 13.2% on a group-wide basis (up from 2.3% to 15.9% at Daiwa Securities).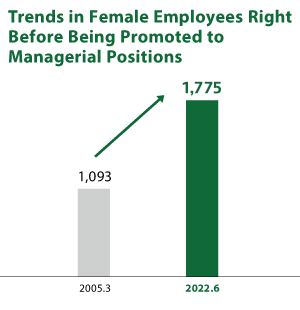 Becoming a Member of 30% Club Japan
Daiwa Securities Group Inc. supports activities undertaken by the 30% Club Japan, with its Chairman of the Board and President and CEO participating as members. The organization, launched in Japan in May 2019, aims to increase the ratio of women in top management of Japanese companies. It has set the goal of raising the ratio of women in the Boards of Directors at the TOPIX 100 companies to 30% by 2030. Chairman of the Board of Daiwa Securities Group Inc., Takashi Hibino, participates as a steering committee member. We will accelerate our initiatives to produce female leaders who will lead Japan's financial industry.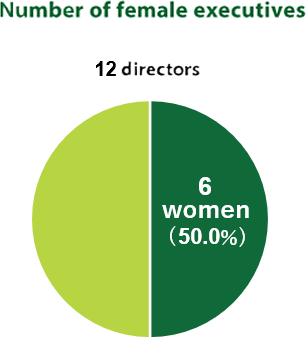 Support for the Success of Veteran Employees
Daiwa Securities Group has in place a Senior Advisor System that enables veteran employees with a wealth of experience to play an active role in the workplace. Senior advisors are dispatched to locations of their choice and engage in community-based consulting and sales from a long-term perspective.
Highly-motivated and talented employees can continue working after retirement under our Daiwa Master System. In FY2017, we started allowing senior advisors to continue working regardless of their age. A total of 110 employees used this system in FY2019.
In accordance with the effectuation of revisions to the Act on Stabilization of Employment of Elderly Persons in 2013, and as the careers of employees are lengthening, we associate our sustainable growth as a company with the employment of older people who wish to keep learning and working in a meaningful way as a part of the organization. Daiwa Securities is greatly expanding its training programs for employees aged 45 and older, and has introduced the License Certification System that provides incentives to employees who have improved their skills and polished their acumen as professionals. Over the four years since these programs were introduced, approximately 1,800 employees, 60% of employees aged 45 and older, have participated in the more than 20,000 seminars offered by these programs. In addition, we introduced a Superior Managing Director System as the highest employee position and enhanced the personnel system for veteran employees with outstanding expertise and knowledge who have made remarkable achievements. We support both work and caregiving, and are creating an environment in which employees can move forward enthusiastically without concerns over their future lifestyle.
We have also introduced long service leave for employees in their 20th year and 30th year at the Group. The leave is designed with gratitude to provide employees who have contributed greatly to the Group's development with an opportunity to refresh themselves and spend time with their parents, spouse, and other people around them who always support them.
Employment of People with Disabilities
As of FY2019, Daiwa Securities Group had more than 200 employees with disabilities handling a wide range of responsibilities in our head office, sales branches and contact centers. We started recruiting new graduates with disabilities as regular employees (general office staff) in FY2008, and in FY2011 broadened the scheme to career-track employees, regional career-track employees, and customer service employees. Once people with disabilities are hired, we provide support for their career advancement by, for example, creating opportunities for them to enter the career-track and regional career-track employment opportunities. To further strengthen our support to employees, we also introduced the Daiwa LEAP Plan in 2018. This provides comprehensive support including a leave program for outpatient treatment, subsidies for expenses incurred to start work, and the introduction of support tools according to the type of disability. The Plan is a measure for bringing out employees' talents while taking their respective circumstances into consideration, and developing a pleasant working environment.
We have vigorously increased recruitment opportunities by holding briefings about the company for new graduates, participating in career expos, and implementing job placement support programs for university students with disabilities.
Moreover, Daiwa Securities Group participates in the Accessibility Consortium of Enterprises (ACE), a general incorporated association, as a member. ACE was founded for the purpose of establishing a model for people with disabilities that contributes to corporate growth, and communicating information to society concerning human resources sought by businesses. As of October 2020, ACE has 37 corporate members, mostly large companies. Through the holding of seminars and workshops for human resources personnel and employees with disabilities, as well as issuance of educational brochures, ACE carries out awareness-raising activities for parties concerned, creates role models, and makes proposals to management and society. Our Group's "Daiwa LEAP Plan" initiative received a "Special Award" in the "Environment Creation Category" of the 2020 ACE Awards.
Employment Rate for Persons with Disabilities

| FY2017 | FY2018 | FY2019 |
| --- | --- | --- |
| 2.10% | 2.33% | 2.57% |
Promoting Increased Understanding toward the LGBT Community and Related Issues
As an opportunity to deepen understanding of LGBT issues, LGBT themes are taken up in training for new and young employees, as well as in training for those who have been promoted. A cumulative total of approximately 5,000 have participated in this training to date.
In addition, every year we hold a Human Rights Awareness Workshop for all employees in each department and office, which includes video training and discussion to promote understanding of LGBT issues. In addition, the Group's Compliance and Human Resources departments receive training from the NPO Nijiiro Diversity to deepen their understanding of the fundamentals and case studies of other companies in order to create a comfortable work environment. Our Human Resources Department supports employees who are undergoing gender transition by allowing them to take time off. Efforts are also made to promote increased understanding among surrounding employees.