Human Resource Development and Skill Enhancement
The source of Daiwa Securities Group's competitiveness lies in the capabilities of its employees. The Group has defined its personnel ideals as "human resources who can provide high value-added solutions through the use of our 'Quality No. 1' integrity and specialized skills, who constantly make new discoveries, and who have positive mindsets, constantly taking on challenges as they seek to achieve even higher targets." We are focusing on developing human resources that meet these ideals.
In particular, we offer extensive training programs to newly hired employees, as we believe that this is a critical period for their training. Seeking to achieve the "Quality No. 1" in the industry, we adopt a system that allows employees to refine their knowledge, techniques, and mindsets through a variety of programs in the curriculum. It enables us to nurture human resources with professional skills at an early stage.
We believe that our employees must have a firm understanding of corporate ethics and compliance to ensure the development of sound financial and capital markets. Accordingly, we provide all employees with regular training on information security and compliance. We also believe that not only having a strong commitment to compliance but also maintaining a high sense of morality and making decisions in light of general social norms is important for living up to the trust of customers and society. Based on this belief, we hold monthly discussions, using a case study approach, for young employees within the first five years of employment, with the participation of senior employees.
Education and Training System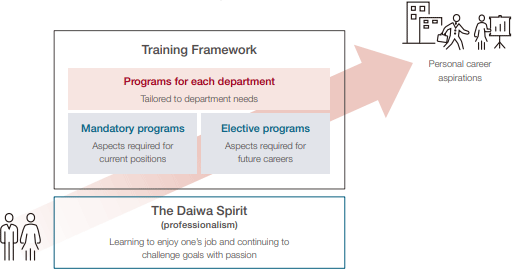 Daiwa Securities Group seeks to be a group of true professionals who love their jobs and keep aiming high. Our employees not only acquire skills necessary for their current work assignments but also make consistent efforts toward achieving their career visions. We have adopted an educational system comprising mandatory programs clearly positioned as duties that must be worked on, and a variety of optional programs that can be chosen according to the needs of each employee for their career advancement. In this way, we support the autonomous career formation of each employee.
In 2019, we introduced the "Digital IT Master Certification System," a structured system for developing human resources that can leverage digital technologies to create innovation within our business. In 2022, we set up Daiwa Digital College for all employees to learn the IT skills and information analysis skills that should be acquired toward the realization of DX strategy. We have thus introduced systems aligned with our business environment and strategies, and are also working on developing digital IT personnel, setting up a target of increasing such personnel to 200 or more as one of our Group-wide key performance indicators (KPIs).
Training Records in FY2021

| | |
| --- | --- |
| Number of times skill training was held in FY2020: | 30 training courses held 57 times |
| Number of participants | 6,488 people |
| Cumulative number of participants (FY2007-FY2021) | 29,307 people |
| Cost for the Group's educational investment: | ¥1.9 billion |
| Cost per employee | ¥150,000 |
Training for Young Employees
Daiwa Securities Group views the first two years of an employee's career as a period for their basic training for becoming a professional. Accordingly, we implement the Daiwa Basic Program that covers this period of training. The program sets the items and levels that should be acquired, and organically combines group training, OJT, e-learning, and support for the acquisition of qualifications. We have been conducting an educational program called "Q-Road" for employees in their third to fifth year of employment. This program helps them improve their knowledge, techniques, and mindsets so that they can achieve "Quality No.1" in the industry. It sets high-level goals for them to further promote their growth.
Training for Veteran Employees
Supporting Employees Trying to Earn Credentials
Daiwa Securities sees Financial Planner (AFP and CFP®) and Certified Member Analyst (CMA) qualifications as core requirements, and has set as a sustainability KPI a target of a combined total of 3,000 CFPs® and CMAs by FY2023. The number of employees with CFP® certifications has exceeded 1,000 for the first time for a company/organization in Japan, making it the highest level in the industry. CFP® is a high-level credential certifying knowledge and skills pertaining to the tax system, inheritance, and real estate fields, essential for providing financial planning services. Moreover, through the Daiwa Basic Program and Q-Road learning program, nearly all employees in their second year of employment acquire AFP qualifications. Our education system then allows employees to aim for CFP® or Certified Member Analyst of the Securities Analysts Association of Japan (CMA) certifications by their fifth year, depending on their own career goals.
We have also introduced an in-house Inheritance Planner Certification®. The certification is granted to employees who have completed practical training, based on extensive knowledge obtained through the acquisition of CFP® certification, that is applicable to business worksites. In addition, the company provides generous support by subsidizing certification costs so that employees can enhance their specialized skills and become professionals.
Number of Persons Earning Major Credentials (as of March 31, 2022)

| | |
| --- | --- |
| Number of persons earning CFP® certifications: | 1,321 people |
| Number of Certified Member Analyst of the Securities Analysts Association of Japan (CMA)®: | 1,509 people |
Intra-Group Job Postings and the Career Track Change System
We have instituted a Career Track Change System that enables non-career-track employees to transfer to career-track and regional career-track positions. Under the system, more than 1,500 employees have moved to other positions. We have also instituted a system of intragroup job postings to help employees with skills and the desire to realize their potential to open new career paths.
To ensure that all employees can continue working with a high level of motivation, it is important to have a fair and convincing evaluation system. For this reason, Daiwa Securities Group has implemented a multifaceted evaluation system for managers whereby subordinates conduct evaluation. This involves subordinates assessing each manager's job performance in carrying out daily duties and the results being fed back to the manager. The scheme aims to help managers to identify their challenges and improve their managerial skills through training programs and other means, thereby improving our overall productivity. The multifaceted evaluation system covers all managers, including executives, the heads of departments, offices, and sales branches, and section chiefs.
Regarding the evaluation of employees, we conduct comprehensive evaluations that take their compliance-related performance into account. In addition, we endeavor to create a personnel evaluation system that motivates all employees, regardless of years they are with us, whether they are young, middle of career, or experienced veterans, to take on the challenges of the next stage of their careers and to work in positions with greater responsibilities. In evaluating employees, we focus mainly on whether, in light of their respective abilities, roles, and responsibilities, they are always changing and continuing to grow in their performance, contribution, and the achievement of the Medium-term Management Plan. Even while on childcare leave, employees are still eligible for promotions as we properly evaluate their contributions to date.
Moreover, we have established a self-assessment system as a twice-yearly opportunity for employees to talk about their careers with their superiors and the Human Resources Department. This system enables employees to share their career visions, strengths, and challenges with their supervisors at one-on-one meetings and communicate to the Human Resources Division their degree of satisfaction with their jobs and also their opinions on the personnel and training systems, the workplace environment, and other matters.
Human Resource Development and Skill Enhancement