Compliance
Daiwa Securities Group has four corporate principles. They are "building trust," "placing importance on personnel," "contributing to society," and "maintaining healthy earnings results." The Group believes that compliance is a significant element for achieving these principles. The goal of the Group's compliance activities is not merely to "comply with laws and regulations," but to earn the trust of customers, markets, society, and stakeholders.
The compliance division of Daiwa Securities Group consists of the Compliance Control Department and the Compliance Department. The former is mainly responsible for overall compliance planning and formulation and also plays a role as a gatekeeper to the market. The latter is tasked with providing support to sales branches and headquarters departments and divisions. The two collaborate to build a compliance system, working concurrently for Daiwa Securities Group Inc. and its subsidiary Daiwa Securities.
At Daiwa Securities Group, the compliance system focuses on three key issues: securing the fairness and transparency of the market, eliminating any relations with anti-social forces (including countermeasures against money laundering and funding of terrorism), and maintaining information security. With these issues in mind, it supports Daiwa Securities and other Group companies.
At Daiwa Securities, the Compliance Department monitors transactions and solicitation by sales branches, identifies challenges and issues, and visits sales branches to check their business status and provide instructions. The department also regularly conducts on-site inspections. Moreover, it visits the work sites of headquarters departments and divisions directly, identifying issues and providing training support. The Customer Counseling Center, established within the Compliance Department, comprehensively handles customer feedback and complaints and reflects them in the business to improve customer satisfaction.
One of Daiwa Securities' strengths lies in its stationing of full-time internal administrators belonging to the Compliance Department at all sales branches. The internal administrators work on improving the effectiveness of the PDCA cycle (plan, do, check, act) at each sales branch. They also closely cooperate with the Compliance Department in an effort to build a solid compliance system.
Staff members in the compliance division—the Compliance Control Department, the Compliance Department, and internal administrators at sales branches—total approximately 250 as of April 1, 2020. They are striving to strengthen Daiwa Securities Group's compliance system.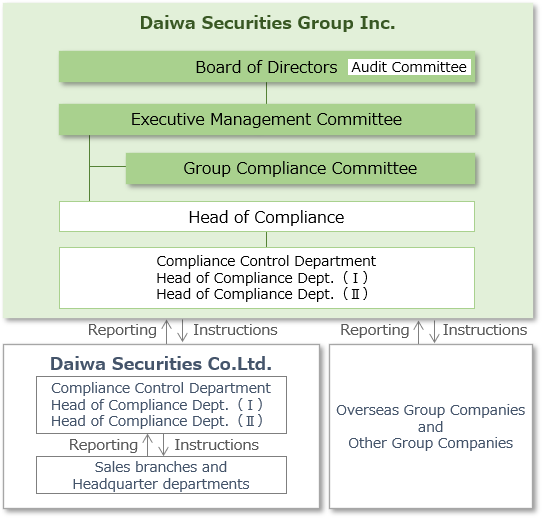 Full Implementation of "Customer-First"
Daiwa Securities Group's Customer Inspection System
Daiwa Securities Group recognizes that the financial and capital markets are an important infrastructure for society. We also believe that sustaining trust in the markets is an important role that we must play.
For example, to maintain trust, it is important for financial institutions, such as Daiwa Securities Group, to eradicate anti-social forces in response to particularly strong social demands in Japan. Internationally, it is also important to prevent the use of the financial and capital markets by terrorists, organized criminal groups engaged in money laundering and other crimes, as well as organizations and individuals designated by international institutions. For this reason, Daiwa Securities Group has put in place a structure to inspect new and existing clients
1.

We undertake the following procedures for all new clients, including customers opening a new account with Daiwa Securities.

(1)

Compare with our own database constructed using information obtained from news reports, the Internet, and other sources

(2)

Compare with databases provided by public and other institutions

(3)

Utilize overseas information provided by Japan Center for International Finance

2.

We regularly check for matters of concern related to existing clients and conduct further investigation if necessary. When a problem is identified, we promptly terminate or exclude trading.

3.

We strive to obtain the latest information in collaboration with the police, the bar association, and other external organizations aimed at eradicating anti-social forces.

4.

We conduct training for executives and employees at our Group companies every year. The training is designed to raise their awareness of the importance of eradicating anti-social forces and countermeasures against money laundering and the provision of funds to support terrorism, as well as to share knowledge of the latest laws and regulations, and relevant cases.
In particular, the importance of countermeasures against money laundering and the provision of funds to support terrorism has grown worldwide. This has increased the need for implementing an effective structure based on a risk-based approach to prevent such acts from occurring. We will work on reinforcement of our structure as an important management issue to ensure that Daiwa Securities Group is not used for money laundering or funding terrorism.
Securing the Fairness and Transparency of the Market
Daiwa Securities Group is working to secure the fairness and transparency of the market from two standpoints. These are how to check and prevent illicit transactions by investors and by Daiwa Securities itself. To prevent illegal transactions by investors, Daiwa Securities checks daily transactions by extracting deals that go beyond certain criteria, such as whether they have an excessive impact on the market. In particular, in order to prevent insider trading from occurring, we ask about customers' place of employment and positions within their companies before registering their information. This practice allows us to check transactions as soon as trading orders are placed by customers who are in a position to acquire internal information. We also check the past transactions conducted with us retroactively when timely disclosure is made of important information.
To prevent illicit transactions within Daiwa Securities Group, we strictly manage not just material facts of listed companies but also broader information related to them in a similar way.
We have also introduced a system managing their information, keeping track of people obtaining information and where information has been sent. Through these efforts, we have constructed a structure to prevent illegal transactions.
Preventing Conflict-of-Interest Transactions between Group Companies
Initiatives against Bribery and Corruption
In line with the principles of the United Nations Global Compact, Daiwa Securities Group works to prevent corruption. Daiwa Securities' code of ethics and conduct includes prohibitions on employees giving or receiving rewards or entertaining customers. Headquarters departments and offices have also incorporated the status of observance of management rules on entertainment into self-inspection items since FY2015. Each department and office therefore inspects their practice voluntarily, and the results of inspections are checked by relevant departments and divisions. Officers in charge or relevant departments and divisions also monitor the use status of entertainment expenses at sales branches to confirm that such expenses are appropriately spent.
With respect to dealings with government officials, headquarters departments and offices and sales branches all manage such dealings separately. They thus keep an especially close eye on those dealings, as entertaining government officials is prohibited by law. Our management rules on entertainment also prohibit employees from giving benefits to government officials of foreign countries. In addition, we provide periodic e-learning training and engage in other awareness-raising activities for employees to ensure that we are not involved in bribery or corruption.
We have also built a structure that prevents the fraudulent granting of benefits at overseas worksites by establishing internal rules that suit local laws and regulations.
Information Security
We at Daiwa Securities Group have implemented numerous information security measures to protect personal information entrusted to us by customers in a safe and precise manner.
In many personal information leakage incidents arising in recent years, leakage has occurred at third parties to which operations have been entrusted. Accordingly, at the time of and after signing an outsourcing contract with a third party, we thoroughly check the information management structure of the party. We also conduct on-site visits before outsourcing to examine the business practices of the potential outsourcing contractor.
Following the enforcement of the My Number Act (the Act on the Use of Numbers to Identify a Specific Individual in Administrative Procedures) in October 2015, we now ask customers to provide us with their Individual Numbers. We have controlled access to information entrusted to us by customers, including Individual Numbers, by isolating such information physically and managing it with extra care. No matter how much information is systematized, there always remains a human element. To ensure that a mistake does not occur, we focus on training for sales personnel to recognize the importance of information management, while keeping the number of employees authorized to access personal information at the minimum level necessary. Daiwa Securities also in principle bans employees from taking personal information out of the company. When it is absolutely necessary to take information out for business purposes, we require employees to obtain prior approval from an internal administrator or other superior and to keep records, thereby strictly managing such information. We also strictly manage the printing of personal information and output to external storage media, while constantly monitoring whether there is any unauthorized use. Moreover, since some of the documents received from customers are paper-based, we prepare special storage files to avoid the risk of losing documents within the company.
In addition, we have developed and implemented a reporting flow in the event that an information leakage incident occurs. Based on this flow, the department where the incident occurred immediately shares the incident with the information security administrator and reports to the department with responsibility for information management. The incident is then reported to the management, including the officer who takes charge of overseeing information security.
Fostering Compliance Awareness
Daiwa Securities Group considers it extremely important for each employee to always maintain a high level of compliance awareness. We have therefore adopted a compliance-related program in training for new employees and a number of other internal training courses. We also give tests on compliance regularly through e-learning. At Daiwa Securities, we post a "Personal Information Check Test" and "Compliance Digest" every Monday on our intranet and also broadcast compliance-related content about 10 times a year in our internal TV program which is aired every morning. Moreover, at Daiwa Securities' sales branches, the branch chief and the internal administrator lead an initiative to provide training and instructions suited to each workplace on a daily basis. The branch chief also chairs a compliance meeting in which all branch members participate. We have thus implemented various systems to keep the compliance awareness of all employees at a high level, and continue to foster awareness among employees.
Structure and Achievements of Whistleblowing System (Corporate Ethics Hotline)
Since January 2003, the Group has operated a Corporate Ethics Hotline for all executives and employees, including those working at affiliated companies and temporary workers; the hotline enables employees to report problems in the workplace directly to Daiwa Securities Group Inc. corporate ethics officers or to outside lawyers.
The hotline's primarily goal is the early detection and prevention of behavior that risks damaging the Group's corporate value. This includes violations of the Financial Instruments and Exchange Act and other laws, rules, and regulations.
The hotline enables anonymous reporting; Group executives and employees are forbidden to retaliate or cause detriment of any kind (dismissal, demotion, pay cuts, cancellation of worker dispatch contracts, replacement, etc.) in relation to reports by whistleblowers.
Group regulations also provide for the protection of whistleblowers, forbidding Group executives and employees from asking people who have information on whistleblowers to disclose such information, and from identifying callers or searching for any other information about them in relation to reports. Email reports are accepted 24 hours a day, 365 days a year.
When the hotline is contacted, the corporate ethics officer, in cooperation with the internal control officers at each Group company, carries out a factfinding investigation, while taking steps to protect the caller. In FY2020, 57 reports were received through the whistleblowing system.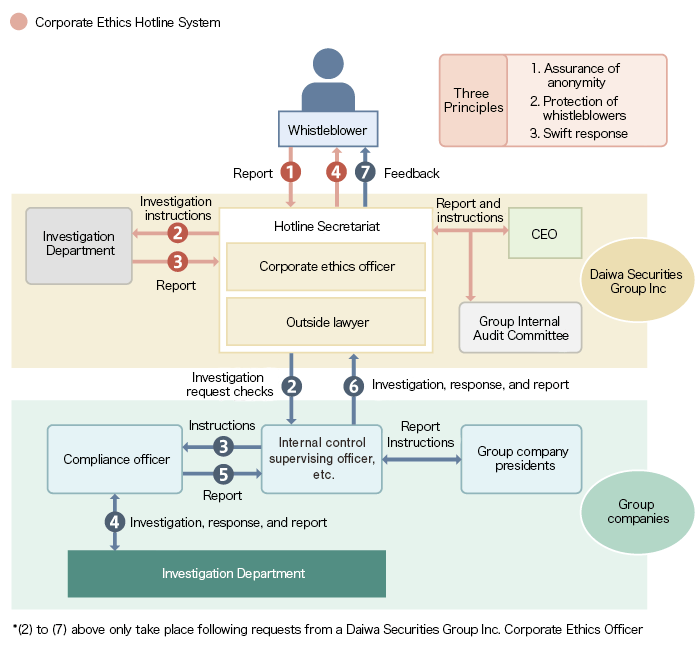 Matters to be reported
All behavior that risks damaging the Group's corporate value, including the behavior outlined below:
Harassment (bullying, power harassment, sexual harassment, maternity harassment, etc.) and other human rights violations
Compliance violations (internal rule violations, information management violations, corruption and bribery including excessive rewards or entertainments, violations of the Financial Instruments and Exchange Act and other laws, rules, and regulations, etc.)
Behavior related to workplace environments
Behavior related to etiquette and manners
Behavior related to expenses and costs
Behavior related to labor management (time management, etc.)
Etc.
Number and breakdown of reports to Corporate Ethics Hotline (FY2020)

| Matter | Number | Percentage |
| --- | --- | --- |
| Power harassment | 27 | 47% |
| Internal rule violations | 9 | 16% |
| Workplace environments | 9 | 16% |
| Law violations | 6 | 11% |
| Etiquette and manners | 3 | 5% |
| Sexual harassment | 2 | 3% |
| Expenses and costs | 1 | 2% |
The Group seeks to ensure that anyone can use the Corporate Ethics Hotline without hesitation. To this end, it is working to raise awareness of the hotline via the Group newsletter and intranet, and making efforts to respond quickly when reports are received.
The Group is also taking steps to improve the hotline so that it operates not just as a measure to solve problems, but also as an effective deterrent to prevent problems before they occur.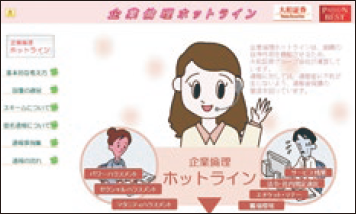 Important Issues for FY2020 and Beyond