Medium-term Management Plan
A Financial and capital market pioneer that creates the future
Daiwa Securities Group views the increasing uncertainties of a changing society as business opportunities, and it aims to contribute to the creation of a better society in the future. Looking toward sustainable growth, we formulated our Medium-Term Management Plan "Passion for the Best" 2020 based on the perspective of what action we should take as our business strategy for the up-coming three-year period.
Our core mission in the securities business is to support with asset formation that provides prosperity to the lives of all in society, and brings our customers closer to the goals that they pursue. The Plan sets the degree of customer satisfaction as an important KPI, and we will improve the strength of the bonds that we share with our customers in order to secure a competitive edge over the long term and into the future.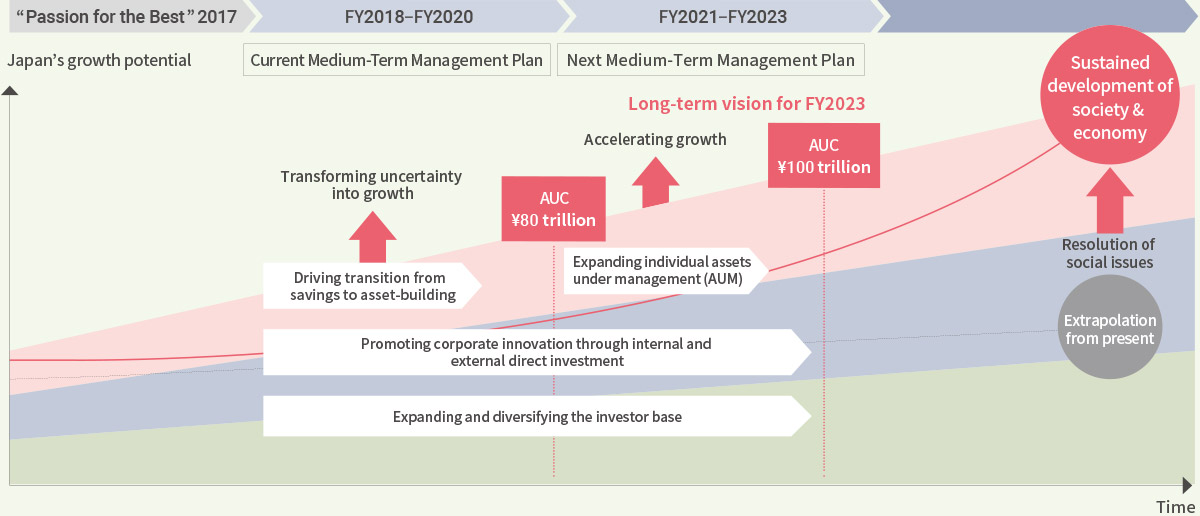 Framework of the Medium-Term Management Plan
Under our Medium-Term Management Plan "Passion for the Best" 2020, we have identified two basic policies, namely, providing high value-added solutions through the use of "Quality No. 1" consulting capabilities, together with new value as an integrated securities group with a hybrid business model.
Group Numerical Targets and FY2018 Progress
Basic Policy and Key Themes for Each Business Line
Medium-term Management Plan