Corporate Governance
Daiwa Securities Group clearly separates the supervisory and executive functions of its management to create a highly transparent and objective corporate governance system. We have adopted a structure in which Corporate Executive Officers of Daiwa Securities Group Inc., as well as employees responsible for head office functions, concurrently serve in the securities subsidiary. This reflects our pursuit of a management structure that improves the efficiency of head office operations and maximizes synergy of each group company.
Basic Views on Corporate Governance
Daiwa Securities Group is a group management holding company which aims to meet a highly transparent and objective governance system that is in line with international standards. Furthermore, the Company aims to achieve highly efficient and specialized supervision of group companies, and is building a unified group management system which demonstrates the synergy of each group company.
Daiwa Securities Group Inc. has adopted the organizational form of a company with Three Committees with a view to
a.

improving the mobility of decision-making by significant delegation of authority from the Board of Directors to the Corporate Executive Officers (Shikkoyaku) and clarifying the division of the duties among the Corporate Executive Officers (Shikkoyaku);

b.

enhancing the transparency of the management by establishing Three Committees (Nominating Committee, Audit Committee and Compensation Committee) of which Outside Directors hold the majority and making the supervisory function of the Board of the Directors more efficient by inviting highly specialized Outside Directors; and

c.

exerting management oversight function by the advice, etc. given from the third point of view, which is based on each insight and experience of highly independent and ethical Outside Directors, in the Board of Directors and the Three Committees. Furthermore, the Group positively addresses
corporate social responsibility activities in order to earn trust from all of the stakeholders. There are indeed various aspects to corporate social responsibility, such as providing superior products, services, and sincere responses to customers; returning profits appropriately and disclosing information to shareholders; measures for labor environment and evaluation of the employees; establishing legal compliance and corporate ethics; environmental management; as well as social contribution.
The Group believes that these approaches, together with a strengthened corporate governance system which emphasizes transparency, mobility and efficiency will lead to the sustainable improvement of the corporate value.
The corporate governance system consists of the Board of Directors and the aforesaid Three Committees (Nominating Committee, Audit Committee, and Compensation Committee) as a supervising body, Executive Management Committee and its subcommittees (Group Risk Management Committee, Disclosure Committee, Group IT Strategy Committee, and Overseas Management Committee) as an executive body, and Group Internal Audit Committee, which is in direct control of the CEO as an internal audit body.
To incorporate more diverse perspectives into group management, we have appointed four female directors and corporate executive officers. On a groupwide basis, nine female officers serve as directors, corporate executive officers, and executive officers.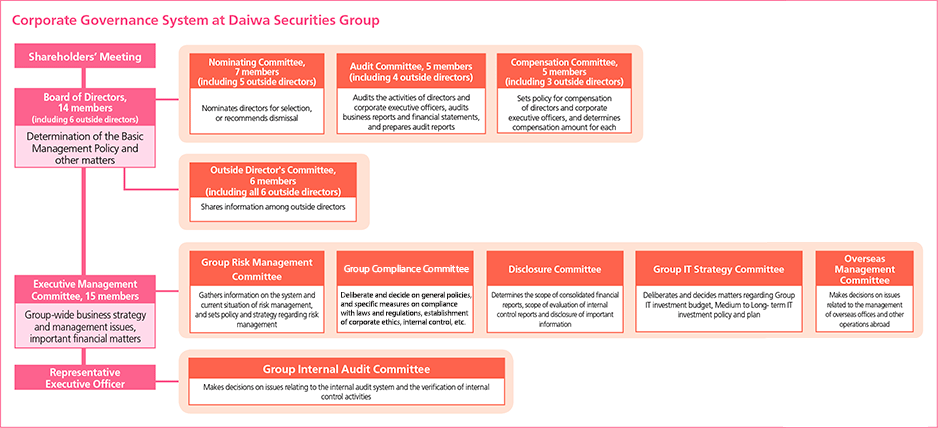 Major Initiatives in Corporate Governance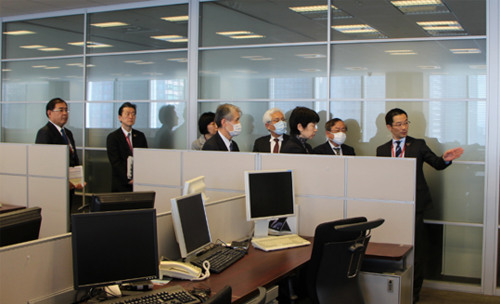 Point
Published the Corporate Governance Report detailing our response to the Corporate Governance Code
Decided that more than two members and more than one third of the Board of Directors should be independent outside directors
Established the Outside Director's Committee in FY2015 for the purpose of increasing communication amongst outside directors
Have elected one additional outside director and six out of 14 Board of Directors as outside directors since FY2016
Strengthened management transparency and oversight functions by increasing the ratio of outside directors on the Nominating Committee and the Audit Committee
Determined that all of the chairpersons of the three committees would be outside directors from FY2017 while taking steps to further improve the governance system
Supervisory Function
The Board of Directors consists of 14*1 directors, including 6 outside directors*2 and 3 female directors. The Board of Directors determines key management policy, in addition to overseeing executive duties. In order to perform this supervisory role from multiple viewpoints in accordance with the demands of society, the policy for selecting new board members states that candidates must have a strong sense of ethics and demonstrate initiative and leadership.
Additionally, outside directors are experts in management and other fields. In addition, the supervisory function of Daiwa Securities Group Inc. is reinforced by the Audit Committee and the Office of the Audit Committee. The Audit Committee, which consists of a majority of outside directors, plays a pivotal role in the supervision of executive duties. The Audit Committee is assisted by the Office of the Audit Committee, which is a department independent of execution of business.
*1

As of June 30, 2019

*2

Outside directors as defined by Article 2-15 of Japan's Companies Act
Audit Committee's Activities
Daiwa Securities Group Inc.'s Audit Committee is engaged in auditing activities for duties executed by directors and corporate executive officers as part of corporate governance. In particular, it focuses on verifying the construction and operational status of the internal control system.
For example, in FY2018, the Audit Committee conducted hearings with employee unions and various divisions, including the sales, product, and human resources divisions. These hearings were designed to confirm the Group's initiative for improving customer satisfaction through the provision of "Quality No. 1" added value-an important issue in its audit policy.
In July 2018, all Audit Committee members, including four outside directors, visited Daiwa Securities' Global Markets Division. They received explanations from executives and employees of the division regarding the duties of each department and office, the structure of transactions with institutional investors, securities exchanges, and industry peers, as well as position management. The members asked various questions, including about systems for preventing illicit transactions like those that have occurred at other companies. They thus took advantage of the visit as a valuable opportunity to deepen their understanding of the division's operations. The Audit Committee will continue to deepen its understanding of the Group's operations and proceed with initiatives to strengthen the Group's corporate governance system.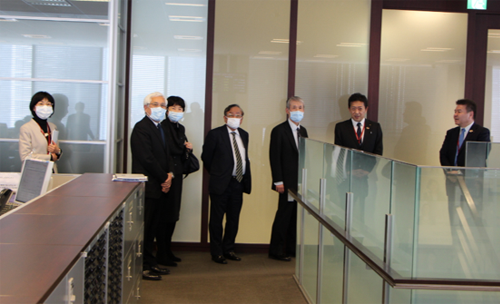 Preventing Conflict-of-Interest Transactions between Group Companies
Conflict-of-interest transactions can occur between Daiwa Securities Group Inc. and Group companies in situations such as intra-Group transactions. Daiwa Securities Group applies rules regarding conflicts of interest stipulated by Japan's Companies Act to the Executive Management Committee as well as the Board of Directors. Conflicts of interest between Daiwa Securities Group Inc. and Group companies are appropriately prevented through a rule prohibiting an executive officer from voting when he or she concurrently serves as an officer of an interested Group company and thus has a special interest in a matter to be decided.
Executive Compensation that is Closely Linked to Performance
Compensation for directors and corporate executive officers is based on the following basic policy.
Basic Policy
Compensation should contribute to increasing shareholder value through sound business development. It should also function effectively as an incentive that leads to the improvement of business performance in both the short term and the medium to long term.
Compensation should be at a level that is competitive not just in Japan but internationally as a securities group that carries out global business.
Compensation should help business execution and supervision to function effectively, as a company with Three Committees system.
Compensation for directors and corporate executive officers is determined by the Compensation Committee. Executive compensation has three components: basic compensation; performance-based compensation; and share price-linked compensation. The details of each component are as follows:
Basic Compensation
Basic compensation is compensation fixed according to post, duties, and role.
Performance-Based Compensation
Performance-based compensation is determined according to the degree of contribution by the individual. In assessing individual contribution, the results of management targets as outlined in the Medium-Term Management Plan are comprehensively taken into account, along with other factors, based on consolidated ROE and ordinary income-key performance indicators used in the Plan. Directors who do not concurrently serve as corporate executive officers are not entitled to receive performance-based compensation.
Share Price-linked Compensation
To increase correlation with shareholder value, restricted stock compensation and others that are worth a certain percentage of basic compensation are granted as share price-linked compensation. Outside directors are not entitled to receive share price-linked compensation.
Internal Control System and Internal Audit
In recognition that management is responsible for maintaining an internal control system to ensure the sound and appropriate execution of business, the Group, under the main initiative of Daiwa Securities Group Inc., has established a system for managing the Group's major business risks. Through this system, the Group endeavors to ensure business effectiveness and efficiency, reliable financial reporting, compliance with laws related to business activities, and asset preservation.
We also recognize that Group value can be increased through the creation of a sound and efficient internal control system. Based on such recognition, we position internal control as an especially important function, and appoint a dedicated corporate executive to whom the Internal Audit Department reports.
The Department sits independently from all other departments, and verifies the internal control system. By conducting effective audits, the Department strives to enhance the Group's corporate value. The Internal Audit Department pays special attention to certain aspects of the Group's business activities. They include the internal control systems at Daiwa Securities Co. Ltd. and overseas offices as a foreign business operator, the internal control systems at Daiwa Next Bank, Ltd. as a bank, the status of businesses that involve the collaboration between Group companies, and the status of control over Group companies by the holding company. The authorization of internal audit plans and reporting of audit results are undertaken by the Group Internal Audit Committee. Internal audit plans are authorized by the Audit Committee or a designated member of the Audit Committee who has received the prerequisite authority from the Audit Committee. The results of audits are also reported to the Audit Committee.
Reports to the Group Internal Audit Committee are not limited to the audit results conducted at Daiwa Securities Group Inc. and Daiwa Securities Co. Ltd. They also include highly important findings made during audits conducted on companies in Japan and overseas. The Internal Audit Department collaborates with the internal auditing divisions of Group companies through periodic meetings, monitoring, and audits.
The Internal Audit Department maintains communications with the Audit Committee and accounting auditor, making any necessary adjustments to ensure that audits are performed efficiently. The Department also sometimes receives audit requests from the Audit Committee.
The degree to which these internal auditing activities satisfy the Institute of Internal Auditors' "International Standards for the Professional Practice of Internal Auditing," the global standard for internal auditing, is routinely evaluated by independent outside third parties. The Group thus strives to constantly improve its system.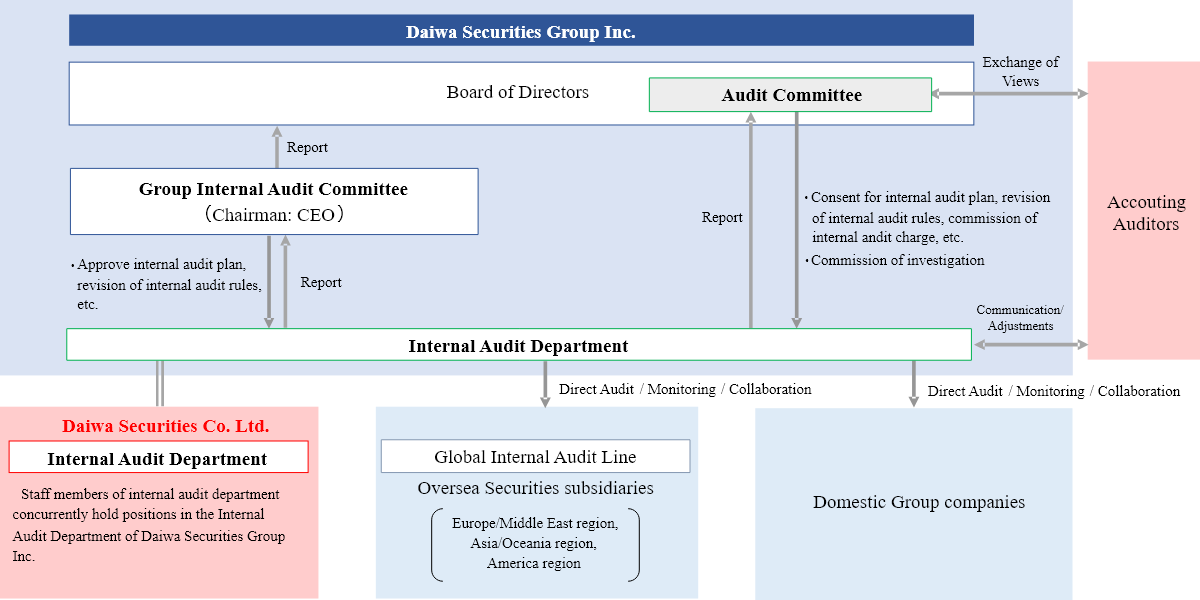 Number of times each committee met (FY2018)
Nominating Committee: 5 times
Audit Committee: 12 times
Compensation Committee: 5 times
Board of Directors: 10 times
Rate of attendance at Board of Directors meetings by outside directors: 94.8%
Structure and Achievements of Whistleblowing System (Corporate Ethics Hotline)
Since January 2003, Daiwa Securities Group has been operating a Corporate Ethics Hotline, through which employees can report problems in the workplace directly to a corporate ethics officer of Daiwa Securities Group Inc. or outside lawyers. The system mainly aims to detect corporate misconduct-which includes violations of the Financial Instruments and Exchange Act and other laws, regulations and rules that include bribery and corruption-in its early stages and prevent such misconduct from occurring.
When the hotline is contacted, the corporate ethics officer, in cooperation with the internal control officers at each Group company, carries out a factfinding investigation, while taking steps to protect the caller. In FY2018, 41 reports were received through the whistleblowing system.
The Group is working to ensure that all employees are familiar with the Corporate Ethics Hotline, including staff at affiliated companies and temporary workers, in order to ensure that anyone can use it without hesitation. We are also making efforts to respond quickly when calls are received. The Group is taking steps to improve the hotline so that it can work effectively as a deterrent to prevent problems before they occur, not just as a measure to solve problems.