Financial Education and Research
Capitalizing on financial and economic expertise accumulated through its securities business, Daiwa Securities Group provides education programs and supports for various generations in order to help people develop the capacity to build their own lives and the asset management skill.
Message from the Head of Financial Education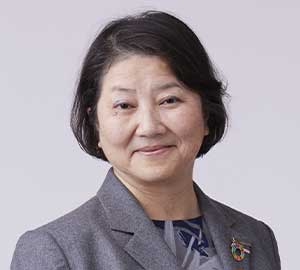 Daiwa Securities Group Inc.
Senior Managing Director
Head of Financial Education
Toyo Abe
Due to the lowering of the adulthood age in Japan, people will start living as adults from the day they turn 18. Therefore, it is important to receive financial education from an early age, such as in elementary school. Financial education is also essential for working adults to have fulfilling 100-year lives.
Daiwa Securities Group will work as a group to improve the financial literacy of a wide range of people through its own activities and cooperation with various organizations and companies.
Initiatives to Enhance People's Financial Literacy
Daiwa Securities Group promotes various initiatives to enhance people's financial literacy.
Information on financial education learning website
The website sets up five categories, including "Money Lessons," "Family Finances" and "Education Funds," and disseminates columns that provide tips to child-rearing generations.
Picture book of money for toddlers "a-i-u-e-o kane no ehon"
This is a website where adults and toddlers of the child-raising generation can study together and learn the Japanese hiragana.
Production of Financial Educational Materials on Stocks
Digital Educational Material: "Let's Study Stocks"
Following the move to digitize schools under the government's GIGA School Program, we created a new PowerPoint educational material for learning about stocks. With teaching plans and example descriptions included in the PowerPoint notes, the material is designed for immediate use in school classes.
(Published by DAN Advertising, Inc.)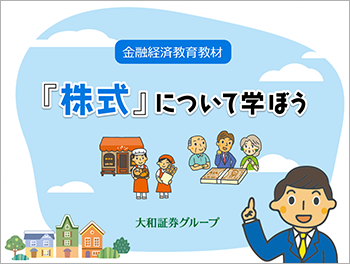 Target
Upper-grade elementary school children and above
Content
The role of money
The role of companies
The structure of stock companies and using shares to raise funds
The role of stock exchanges
How stocks can be useful
Positive effects of an excellent company on society
(Applied learning) Financial instruments other than stocks
Support to Oshigoto Museum and "Oshigoto Almanac"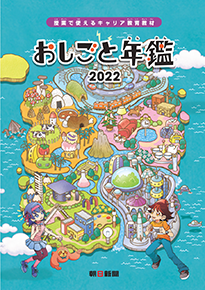 Since FY2016, the Group has been supporting the Oshigoto Museum, a career education support project for elementary and junior high school students (organized by The Asahi Shimbun Company). The project provides information on working and various jobs via the "Oshigoto Almanac" (book) and the Oshigoto Museum (website) to help children visualize their future careers.
Oshigoto Museum (website)
In addition to information contained on the pages of the "Oshigoto Almanac" (book), this website gets children to learn through quizzes and other game-like activities.
"Oshigoto Almanac" (book)
Our Group's pages include explanations about stocks, bonds, and the work of securities firms. In addition to being donated to elementary schools, junior high schools, and Kodomo Shokudo (children's cafeterias) nationwide, excerpts from the "Oshigoto Almanac" are also distributed free of charge via EduMall (an educational content distribution service provided by Uchida Yoko).
Number of copies published to date
"Oshigoto Almanac 2022" 75,000 copies (published on June 14, 2022)
"Oshigoto Almanac 2021" Donation of 70,000 copies (published on June 21, 2021)
"Oshigoto Almanac 2020" Donation of 70,000 copies (published on June 29, 2020)
"Oshigoto Almanac 2019" Donation of 67,000 copies (published on June 17, 2019)
"Oshigoto Almanac 2018" Donation of 64,000 copies (published on June 15, 2018)
Group publications page
"Oshigoto Almanac 2022"

Tips and tricks on dealing with money
"Oshigoto Almanac 2021"

What are SDG Bonds?
"Oshigoto Almanac 2020"

What does a securities analyst do?
Oshigoto Almanac 2019

What happens in a trading room?
Oshigoto Almanac 2018

What jobs do people do at a securities company?
Oshigoto Almanac 2017

How can money be raised to expand a company?
Oshigoto Almanac 2016

What are stocks?
Support for KidZania
Daiwa Securities Group is a supporter of KidZania, a theme park designed to offer work experiences to children, and has been providing support to the facilities in Tokyo and Koshien (Hyogo Prefecture) since they opened. KidZania provides children from the age of three to 15 with programs that enable them to learn the mechanisms of society in a fun way. In the Daiwa Securities pavilions, children act as consultants at a securities company, giving advice to clients, going to nearby pavilions, and checking their levels of traffic and popular products. Based on the results of those checks, they then make investment recommendations for their clients.
Finance Park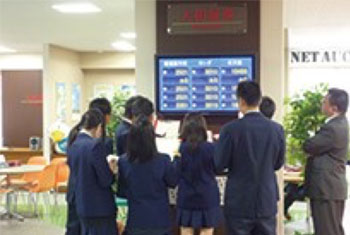 Daiwa Securities Group cooperates with Finance Parks operated by Junior Achievement Japan, a public interest incorporated foundation. This program provides opportunities for junior high school students to learn economic and financial mechanisms that will be necessary for them in their adult life. Finance Parks have been operating in Shinagawa (Tokyo), Kyoto, Iwaki (Fukushima Prefecture), and Sendai (Miyagi Prefecture). We have set up pseudo-branches of Daiwa Securities in these parks. (*The Finance Park in Kyoto ended in FY2020.)
Number of participants in Finance Parks for FY2021
14,425 people
Breakdown
Shinagawa: 3,341
Iwaki: 2,689
Sendai: 8,395
Participation in the Platform for Learning Innovation Japan
Daiwa Securities Group took part in the Platform for Learning Innovation Japan (PLIJ), a collaboration of industry, university, government, public, and schools to promote STEAM education*1 in Japan.
In the 6th Science, Technology, and Innovation Basic Plan (Cabinet decision in March 2021), the promotion of STEAM education is listed as one of the measures for realizing Society 5.0*2. The platform established by the Council on Competitiveness-Nippon (COCN) is expected to include a library of STEAM education materials and a network of human resources to support STEAM education.
We will contribute to the platform by providing educational content in the fields of economics and finance which we have accumulated through our securities business.
*1

Cross-disciplinary education to utilize learning in each subject such as Science, Technology, Engineering, Arts, Mathematics, etc. for finding and solving problems in the real world

*2

A human-centered society that balances economic advancement with the resolution of social problems by a system that highly integrates cyberspace and physical space
Example of Business-Academia Collaborations: University of Tokyo Hongo Tech Garage (Donation Project by Daiwa Securities Group)
Daiwa Securities Group supports the University of Tokyo Hongo Tech Garage, which was established by the University of Tokyo in 2016 as a site to advance entrepreneurship education (a donation project by Daiwa Securities Group). To date, more than 500 students have participated in the project, leading to the launch of several companies each year. Among such companies, teTra aviation corp., has achieved success. Established in 2018, the company became the sole prize-winning team in the world competition for personal flying devices sponsored by Boeing in February 2020.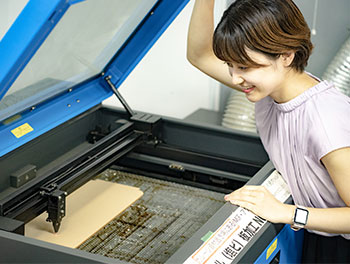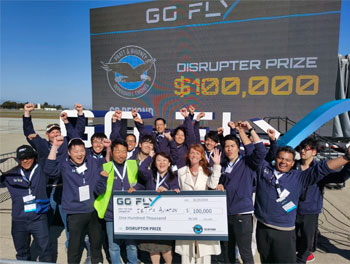 Financial Education and Research