Action through Product Development and Distribution
For Addressing Social Issues and Contributing to Future Development of Society and Financial and Capital Markets
Initiatives through Business Activities Such as the Underwriting and Sale of SDG Bonds
Climate change has become a serious threat to all countries. It is said that developing countries are being impacted first and with the gravest results. Climate change may destroy the social initiatives for poverty issues that have been steadily carried out over the last several decades, and it is impossible to separate it from poverty issues.
In the past few years, initiatives for sustainability have spread worldwide, and along with the expansion of the market for related bonds, customers' interest in sustainability has been growing. As a pioneer for SDG bonds in Japan (including conventional Impact Investment bonds), Daiwa Securities provides customers with opportunities to invest in bonds issued by public organizations, financial institutions, and other issuers for the purpose of solving social issues.
Daiwa Securities Group will continue to contribute to solving social issues through its business activities, including the underwriting and sale of Green Bonds and other SDG bonds.
SDG Bonds for Retail Investors Sold by Daiwa Securities (FY2021)

* Sold by multiple companies including Daiwa Securities (the sales amounts shown above are those underwritten by Daiwa Securities).

Issuers
Use of funds
Sales amount
(estimate)
ORIX*
Applied to new or past expenditures that meet the eligibility criteria of a green bond framework developed by ORIX
¥4.0 billion
World Bank
Supports a wide range of development projects undertaken by the World Bank for developing countries
¥1.1 billion
Tokyo Metropolitan Government (TMG)*
Used for the installation of solar power generation to facilities owned by TMG, the development of parks, and the development of coastal preservation facilities (such as seawalls)
¥2.0 billion
Tokyu*
Applied to refinancing of expenditures for "clean transportation," "railway infrastructure for safety and security," etc.
¥2.0 billion
Japan International Cooperation Agency (JICA)*
Used for financing provided by JICA to support sustainable development in developing countries
¥0.8 billion
Results of SDG Bonds for Retail Investors
Daiwa Securities cumulative sales: ¥810.3 billion
*

Figures have been rounded off

*

Source: Daiwa Securities (From March 2008 to March 2022)
Daiwa Securities' share in the Japanese market: 44%
Total ¥1,843.6 billion
*

Figures have been rounded off

*

Source: Daiwa Securities (From March 2008 to March 2022)
SDGs related to SDG bonds sold in the past

SDG Private Placement Bonds for Domestic Institutional Investors Sold by Daiwa Securities (FY2021)
* Data based on press releases

Issuers
Bond name
Date of issuance
Currency
Issuance amount
(In units of millions of the issuance currency)
Corporación Andina de Fomento (CAF)
Nutrition bonds
June 2021
JPY
20,000
Corporación Andina de Fomento (CAF)
Nutrition bonds
June 2021
JPY
3,000
Corporación Andina de Fomento (CAF)
Nutrition bonds
June 2021
JPY
5,000
European Bank for Reconstruction and Development (EBRD)
Climate resilience bonds
July 2021
AUD
160
Inter-American Investment Corporation (IDB Invest)
Decarbonization bonds
September 2021
AUD
68
Asian Development Bank
Water bonds
October 2021
AUD
30
Asian Development Bank
Gender bonds
February 2022
AUD
66
Inter-American Development Bank (IADB)
Sustainable development bonds
February 2022
AUD
120
Inter-American Development Bank (IADB)
EYE (education, youth and employment) bonds
February 2022
AUD
50
Daiwa Securities' share in the Japanese market: 21.95% (based on press releases)
Only private placement bonds for which the arranger is clear are counted.
FY2021 Initiatives Taken by the Group's Overseas Offices
Daiwa Capital Markets America (DCMA) Initiatives
Daiwa Capital Markets America Inc. (DCMA) Underwrites De-carbonization Bonds Issued by Inter-American Investment Corporation (IDB Invest)
DCMA acted as solo lead manager for de-carbonization bonds issued by IDB Invest in October 2021.
IDB Invest is a multilateral development bank committed to promoting the economic and social development of its member countries in Latin America and the Caribbean through the private sector. IDB Invest finances sustainable enterprises and projects to achieve financial, social and environmental development for the region.
The proceeds of the bonds will be used for companies and projects that support the IDB Group climate change action plan and the de-carbonization in Latin America and the Caribbean through installation and management of renewable energy, optimization of energy efficiency and management of waste and drainage system, etc.
DCMA Underwrites Education, Youth and Employment (EYE) Bonds Issued by Inter-American Development Bank (IDB)
DCMA acted as solo lead manager for EYE bonds issued by IDB in February 2022.
IDB is a multilateral development bank committed to promoting the economic and social development of its member countries in Latin America and the Caribbean.
The EYE represents Education, Youth and Employment. The proceeds of the EYE bonds will be used for the EYE projects that support early childhood care and education, through formal primary and secondary education, as well as programs that facilitate labor market placement by improving the transition from school and work through vocational training, which contributes to the promotion of youth participation in society and the improvement of productivity in Latin America and the Caribbean.
Daiwa Capital Markets Europe Limited (DCME) Initiatives
Tarek Hassan was appointed Head of ESG at DCME. Tarek is working closely with Senior Management to develop the DCME ESG strategy that will support the Group's vision to "create the future through everyone's actions" and "realising the SDGs by creating a sustainable capital cycle.
Message from the Head of ESG
"I am delighted to be appointed as Head of ESG at Daiwa Capital Markets Europe Limited ("DCME") - I look forward to working with our leadership within DCME and across the Daiwa Securities Group to generate ESG-related client opportunities, advance our net zero efforts and educate colleagues to develop our collective expertise on sustainability initiatives, further embedding ESG and the SDGs at the heart of our strategy."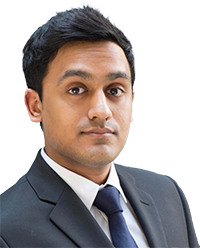 Tarek Hasan's bio:
In January 2022, DCME welcomed Tarek Hasan as Head of ESG to develop our ESG-related strategy, solutions and services:
Tarek has over 12 years' experience across Capital Markets and Project Finance including time as a derivatives trader.
He started his career at MUFG where he eventually led their ESG strategy, developing their global platform.
Tarek has expertise of industry standards such as ICMA principles, SFDR, EU Taxonomy, TCFD as well as specialist knowledge of investor ESG selection methodologies & ESG ratings.
He is a member of the AFME Sustainable Finance Steering Committee and has strong relationships with the Climate Bond Initiative.
In his spare time, Tarek is a trustee of a sustainable impact charity, mentor for industry ESG initiatives and former co-chair of banking diversity & inclusion networks.
Tarek graduated with a Masters in Financial Mathematics from Warwick Business School, and holds a number of professional qualifications including CFA ESG Investing Certificate.
The Business Development Working Group
The Business Development Working Group membership has been expanded to include the following departments:
Daiwa Capital Markets Europe Limited Geneva Branch Equity;
ECM;
Daiwa Capital Markets Deutschland GmbH ("DCMD") Equity Sales;
New Head of DCMD FICC Sales
One recent highlight and development from the working group is Fixed Income Sales and Syndication's outreach project to European investors to identify ESG trends and objectives, which has now completed.
The database of feedback has been shared with DCM to allow them to better understand investor demands in ESG products. This exercise has also paid off in notably increased orders in ESG issuance from investors that DCME contacted as part of this exercise. A similar exercise is being looked into for Equity Sales.
The Regulation & Risk Working Group
Please see: Corporate Citizenship Initiatives > Initiatives Taken by the Group's Overseas Offices > Activities at the Group's London Operational Base
Daiwa Capital Markets Singapore Limited Initiatives
Daiwa ESG Conference (Asia ESG Debt Webinar)
On August 26, 2021, Daiwa Capital Markets Singapore Limited hosted its first web conference focusing on ESG bonds in Asia. The event consisted of two parts of the panel discussion which was led by 6 panelists including ESG experts from Asian Development Bank (ADB), Singapore Exchange (SGX) and the International Capital Market Association (ICMA), and attended by more than 160 Asian and European bond issuers and investors. Post-event survey was conducted to hear the current investment stance and outlook for Asian ESG bonds. We will continue this initiative as an annual event that leads to an increase in ESG bond deals in Asia.
SDG related funds are a mixture of stocks and bonds that take into account factors other than financial performance, such as ethics and social and environmental objectives, in addition to assessments of the sales and profits of the investment candidates.
We have expanded our product lineup according to the times to include eco funds that limit non-financial assessments to environmental performance and investment trusts that focus on Impact Investment and select issues from an SDG perspective. By investing in these funds, through financial markets, investors can indirectly support countries and corporations that are proactively involved in sustainability initiatives.
Assets under management in Daiwa Securities Group1: ¥451.6 billion
Daiwa Securities Sales: ¥366.4 billion
*

Souce: Daiwa Securities Co. Ltd.
1.

Assets under management at Daiwa Asset Management and Global X Japan as of March 31, 2022
Development and Provision of Superior Financial and Investment Products
While the importance of asset management in the "100-year life era" is increasingly gaining attention, Daiwa Securities considers the development and provision of superior products to be one of our major missions in society, and strives to develop new products and improve their quality.
"Jeans for Genes Day" Donations Delivered to Recipients of Support Term Deposits
"Jeans for Genes Day" (a homonymous play on words) is a fundraising event that has been held since the 1990s in schools and companies in Europe and the United States to support children with genetic diseases. Since March 2021, Daiwa Securities Group has been holding Jeans for Genes Days on the third Friday of every month, with executives and employees coming to work wearing jeans to raise funds. Donations collected from Jeans for Genes Days held between October 2021 and February 2022 were sent to recipients of Support Term Deposits that provide pediatric care and support for people with disabilities. Daiwa Securities Group's social contribution activities conducted through Jeans for Genes Day and Support Term Deposits were featured in a TV program on Asahi Satellite Broadcasting called "Tsunagaru Ehon: for SDGs."
Initiatives for Solutions Business
Many small- and medium-sized companies and small-scale enterprises are now facing the issue of business succession due to the aging of their operators. However, it is said that about half the managers exceeding the age of 70—the average retirement age—in the next 10 years are yet to decide on their successors. Moreover, even the continuity of their business activities, which support regional economies, has recently been adversely affected by the unprecedented deterioration of management environment resulting from the COVID-19 pandemic. Daiwa Securities recognizes that it is its duty, as a financial institution, to firmly support, in financial terms, small- and medium-sized companies' efforts to pass down their valuable business resources, employment, and technologies to the next generations, thereby helping to maintain regional supply chains. We will support the sustainable development of local communities and the Japanese economy by encouraging the continuation, development, and growth of small- and medium-sized companies of good standing by providing solutions to inheritance, business succession, M&A, and other issues.
Initiatives of Fund Wrap Services
Daiwa Fund Wrap is a service enabling even those who are busy or have no investment experience to easily start medium- to long-term diversified investment. Under a discretionary investment contract, Daiwa Securities invests and manages assets on behalf of our customers. We offer plans that enable each customer to make diversified global investments according to their investment policy, as do professional institutional investors such as those managing public pension assets. It has become more important than ever for a large number of investors to manage their assets efficiently and stably through diversified global investment, in particular as a measure to address prolonged low interest rates, which have made it difficult to find attractive investment options. Daiwa Fund Wrap is a service offered to customers over the medium to long term. We provide thorough explanations before the conclusion of a contract, report investment performance regularly every three months, and hold follow-up seminars whenever necessary. We thus ensure close communication with customers and seek to build a relationship of trust with them.
Daiwa Fund Wrap Premium (Daiwa Fund Wrap with premium benefits) now offers a more detailed service, enabling customers to have multiple investment portfolios and design them in a highly customized manner. The beneficiary designation service and the gift service that takes advantage of the calendar year taxation system are incidental services that can meet the needs customers with a strong interest in inheritance tax measures.
Anshin Tsunagaru Wrap (Daiwa Fund Wrap with premium benefits that provide peace of mind) also offers incidental services that support all aspects of asset succession, such as inter vivos gifts (between living persons) and inheritance measures, in order to safeguard a customer's valuable assets and pass them on to their family.
Moreover, Daiwa Fund Wrap Online proposes the most suitable investment style from a minimum investment amount of ¥10,000 by utilizing Robo-Advisor technology. We thus provide a service enabling customers who prefer long-term asset management to easily engage in globally diversified investments online.
To keep attracting customers over the long term, we will continue our initiatives to implement better structures and systems so as to improve our performance and the quality of our services.
Balance of domestic Wrap accounts: ¥13,722.2billion (As of March 31, 2022)
*

Source: Data released by the Japan Investment Advisers Association
Balance of Wrap accounts at Daiwa Securities: ¥2,957.4 billion (As of March 31, 2022)
*

Source: Data released by the Japan Investment Advisers Association
Daiwa Social Contribution Wrap - Daiwa Fund Wrap with a donation service
Amount donated in FY2021: ¥43.61 million (FY2020: ¥3.58 million)
*

Total donated amount from customers and from Daiwa Securities

*

Donated to United Nations World Food Programme, Medecins Sans Frontieres Japan, WWF Japan, Japan Committee for UNICEF, Japan Platform
Initiatives in Funds for Decarbonization (Daiwa Asset Management)
Daiwa Asset Management offers investment opportunities by creating and managing investment trusts with ESG and SDG targets.
The Carbon Neutral Equity Fund (Carbon Zero) was established by Daiwa Asset Management in July 2021 and is managed with advice from Candriam S.C.A. (Candriam). It is the first fund in Japan with a revolutionary scheme that aims for zero carbon not only in the investment part of the fund but also in other parts.
The fund invests in companies that provide solutions for realizing a decarbonized society. The fund's portfolio comprises stocks from around the world, including Japan. Its portfolio was found to be even more effective than MSCI All Country World Index (MSCI ACWI) in terms of reducing carbon dioxide emissions. Furthermore, part of the fee earned by Candriam for advising the fund is used to invest in green projects aimed at reducing carbon dioxide emissions mainly in emerging economies such as India and Panama (i.e., projects that help address global warming and other environmental problems), thereby helping to offset the carbon dioxide emissions associated with the fund.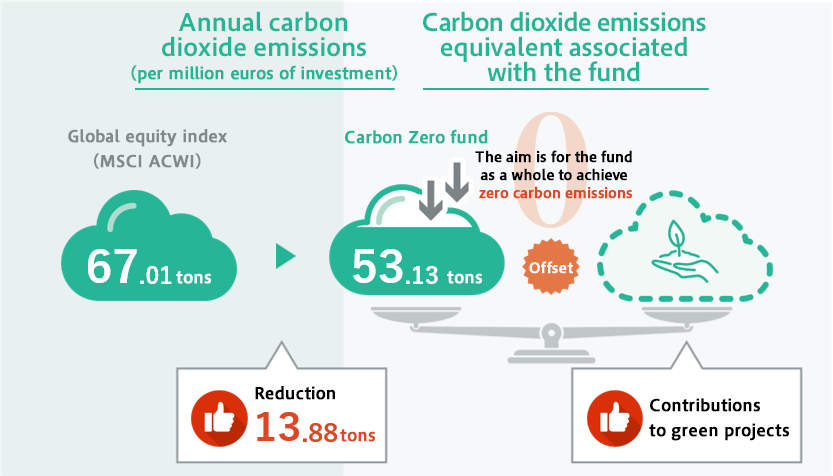 In addition, Daiwa Asset Management and some sales companies, including Daiwa Securities, are also contributing toward the restoration of natural environments by donating part of their trustee revenue from the fund to tree-planting activities through an NPO. In this way, investment beneficiaries are being provided not only with an opportunity to earn profits from investing in the fund, but also to help address environmental issues.
With respect to its donations to tree-planting activities, Daiwa Asset Management cooperated in an interview survey conducted by the National Land Afforestation Promotion Organization on the Project for Comprehensive Promotion of Forestation with Public Participation (a project commissioned by the Forestry Agency), which was reported to the Forestry Agency as an example of corporate involvement in forestation.
* The project report has not been made public.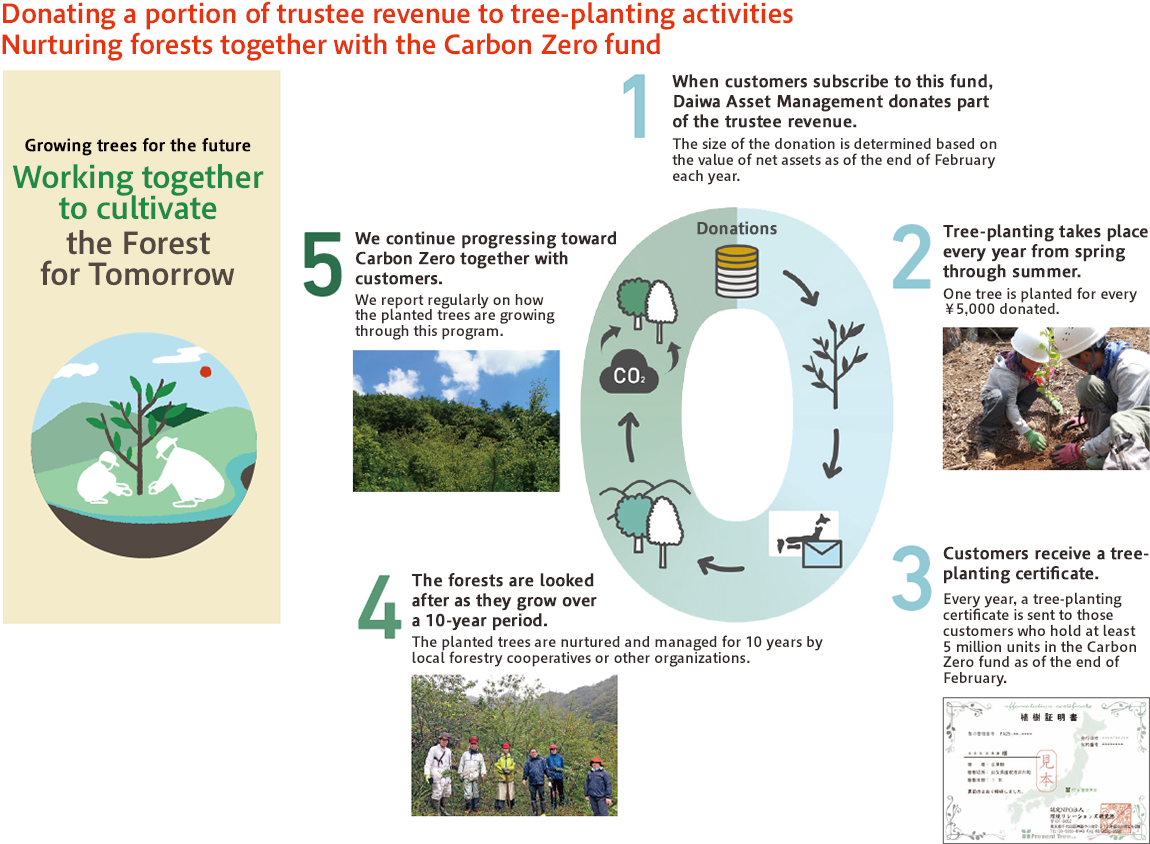 In recognition of these initiatives of the Carbon Zero fund, Daiwa Asset Management won the Governor's Special Prize for Green Finance in the ESG Investment Category of the 2021 Tokyo Financial Award organized by the Tokyo Metropolitan Government and the Most Innovative Product Award at the 2022 Best of the Best Awards organized by Hong Kong's Asia Asset Management—The Journal of Investments and Pensions.
Initiatives Using REITs and Other Structures to Solve Social Issues
Daiwa Office Investment Corporation (DOI), a REIT that specializes in office properties and is managed by Daiwa Real Estate Asset Management, established a green finance framework to provide ESG investment opportunities to investors. The company received a Green 1 (F) rating, the highest rating, from Japan Credit Rating Agency, Ltd. (JCR). In September 2020, DOI issued its first green bonds (five-year term: ¥1.5 billion; 10-year term: ¥2.4 billion).
Investment in Healthcare Facilities
Daiwa Real Estate Asset Management managed Nippon Healthcare Investment Corporation, which was Japan's first REIT focusing on healthcare facilities. On April 1, 2020, that REIT was merged with Japan Rental Housing Investments Inc., a REIT focusing on housing that was also managed by Daiwa Real Estate Asset Management, and Daiwa Securities Living Investment Corporation ("DLI"), the J-REIT with the largest amount of healthcare facility assets under management in Japan, was established. DLI invests in prime healthcare facilities that are likely to see stronger demand from society over the medium to long term as the population continues to age. Through such investment, it will contribute to the "Achievement of Good Health and Longevity," a social issue in Japan identified in the SDGs Implementation Guiding Principles formulated by the government's SDGs Promotion Headquarters.
DLI has also established a social finance framework to provide ESG investment opportunities to investors through social financing and received a Social 1 (F) rating, the highest rating, from Japan Credit Rating Agency, Ltd. (JCR). Based on this framework, DLI borrowed ¥770 million through a social loan in October 2021 and issued ¥2.0 billion of social bonds in January 2022, using the funds raised to acquire healthcare facilities.
Total amount of investment in healthcare facilities
Approximately ¥101.9 billion (as of May 31, 2022)
Investment in Renewable Energy
With regard to infrastructure assets, Daiwa Real Estate Asset Management has been managing photovoltaic power stations since FY2014, and was entrusted in FY2017 with the management of a biomass power generation plant invested in by Daiwa Energy & Infrastructure. In September 2021, the company was entrusted with management of DSREF Amaterasu Core Fund, Investment Limited Partnership, a private fund targeting investment in a solar power project which was established by soliciting investments from domestic institutional investors. The company will continue to expand the balance of its assets under management while striving to accumulate knowledge of investment and management in the renewable energy field.
Management results of renewable energy power plants
Number of deals: 22
(Hokkaido, Tohoku, Hokuriku, Kanto, Chubu, Kansai, Chugoku, and Shikoku regions)
Output: Approximately 213 MW from solar power plants (excluding output from assets on land with leasehold interest), 13 MW from biomass power plants
Annual energy output (April 2021 to March 2022): 309,553MWh
(Assumed CO2 reduction of 151,129 t-CO2, calculated using emission factors of each regional electric utility)
Balance of assets under management: Approximately ¥85.3 billion
Expansion of Services for Asset-Building Customers through Smartphone-only Securities Company, "Daiwa Connect Securities"
Smartphones and other technical innovations are changing the common perception that securities companies are used only by affluent customers and that securities transactions require an advanced level of financial knowledge. We recognize that generating securities services available to all people in consideration of financial inclusion is an issue facing not only Daiwa Securities Group but also the securities industry as a whole.
Daiwa Connect Securities Co., Ltd. which began providing services in July 2020, is a new type of securities company created by Daiwa Securities Group. It chiefly handles transactions in units of one share and provides services mainly targeted at people in the digital native generation. The company provides and completes all services—from the opening of an account to securities trading—on smartphones, enabling anyone to use securities services, starting with a small amount of investment, as long as they have a smartphone.
Daiwa Connect Securities also provides an investment game app and a point investment service in collaboration with external companies, thereby offering opportunities to acquire financial knowledge easily even without funds and diversifying methods of access to financial services.
Daiwa Connect Securities will continue to develop and provide its services so that all people will be able to access better financial services.
Group-wide Research on Financial Innovations
Since FY2016, working-level personnel at Daiwa Securities Group, including from Daiwa Securities Group Inc., Daiwa Securities, Daiwa Institute of Research, and Daiwa Asset Management, have been conducting research activities on artificial intelligence (AI) and other state-of-the-art technologies across the Group.
Specifically, they have achieved results in research on the provision of a stock information service using a stock price prediction model, a real-time stock volume prediction model, shareholder rewards program Robo-Advisor, an AI-based business matching service, an AI-based company analysis tool, and other matters.

Moreover, in FY2017, the Group launched the "Daiwa Securities Group & the University of Tokyo Future Finance Forum" in order to develop its research activities further and expand the basis of the activities. As its advanced form, since FY2018 we have been conducting joint research with a University of Tokyo study group led by Professor Kiyoshi Izumi through a social cooperation program entitled "Next Generation Investment Technology" and have developed a theme issue search system based on associative retrieval.
Going forward, Daiwa Securities Group will continue to promote innovations in the financial industry through its ongoing research activities.
Response to FinTech and artificial intelligence (AI)
Since starting Daiwa Online Trade, Japan's first Internet-based securities brokerage service, in 1996, Daiwa Securities has provided various products and services successively over a period of more than 20 years. Due to the widespread use of portable information devices and the development of information communications technology, the importance of Internet channels has increased even more in recent years, with the number of accounts held under contract for Daiwa Online Trade topping 3.5 million as of the end of March 2022. Of Daiwa Securities' total stock transactions, approximately 85% are carried out via the online trading service, underscoring the fact that Daiwa Online Trade has become an indispensable channel for Daiwa Securities.
Since May 2017, we have been providing information through Daiwa Online Trade regarding domestic issues selected using an AI-based stock price prediction model developed by Daiwa Institute of Research, Daiwa Securities Group's think tank. We select issues whose prices are likely to go up gradually after the announcement of financial results, using a method of machine learning, which is an AI-related technology. In 2019, we distributed information four times in total when major financial results were announced.
Furthermore, in February 2019, we introduced a login function using a biometric authentication system to Kabu Walk, a smartphone application with a domestic stocks trading function provided on iPhones and Android devices. We believe that by actively using such new technologies, including AI and FinTech—an amalgamation of finance and information technology—we will stimulate interest in securities investment among individuals, especially younger generations, who have not previously been familiar with securities investment, and thereby support a shift from savings to asset building. In that way, we can contribute to Japan's sound economic development.
As the use of various AI-based services is currently spreading and the development of FinTech is accelerating, new financial services leveraging these technologies are becoming easily available. We will keep track of such trends and endeavor to continue enhancing convenience and providing quality services as a channel chosen by next-generation affluent customers and young customers with particular focus on inbound marketing.
Daiwa Online Trade
Number of contract accounts: 3,506,000 accounts
(As of the end of March 2022)
Contribution to Stimulation of Local Economies though AI-based Support for Enhancement of Financial Services
Due to its technological progress and higher academic rating, artificial intelligence (AI) has been increasingly used for business applications. Daiwa Institute of Research Business Innovation, which is entrusted by many financial institutions with system development, is advancing initiatives for research and application of AI.
As part of AI-based support for enhancement of financial services, the company developed a common data definition that enables AI to learn the financial activities and state of mind of retail customers with remarkable accuracy by combining a wealth of experience in developing financial systems and unique data science expertise. It built a financial product recommendation AI system based on this data definition, which has been provided since 2019 to some regional financial institutions. The system is expected to allow those financial institutions to predict the financial needs of their customers more accurately with AI.
Daiwa Securities Group will contribute to the social and economic development of communities through initiatives that actively use state-of-the-art technologies.
System Product WEB Service
System Product WEB Service is offered as a support tool for customers building assets. Its aim is to realize a prosperous era of the 100-year life.
The service enables customers to centrally manage their stock-based employee benefit plans (such as stock ownership plans, workplace NISA, and defined contribution pension plans) and stock-based compensation plans (such as specified transfer-restricted stock (RS) and stock options) on a single online platform. The service enables us to support asset-building to help our customers realize their life plans and to actively encourage participation in a company's employee benefit plans, such as stock ownership plans and installment-type investment plans.
Utilizing the latest technologies in the context of digital transformation (DX), for companies and their employees, we are working to build highly flexible coordination based on an application programming interface (API), to provide a high degree of convenience, such as making use of cloud services to make opening accounts more effortless and less time-consuming, and to completely eliminate the need for paper and personal seals in various procedures.
Action through Product Development and Distribution