Role and Social Responsibilities of the Securities Business
At Daiwa Securities Group, we believe that our role is not only to maintain and develop a fair and dynamic financial market, but also to incorporate a social perspective in finance in order to contribute to building a sustainable society. For example, the securities business - our core operations - plays a key role in society by building a bridge between the needs of investors to manage assets and those of the private and public sectors to raise funds.
On investing in securities, we promote methods of investment that take ESG (environment, society, and governance) factors, such as environmental and social initiatives into account together with financial information.
Supporting Sound Financial and Capital Markets-Six Roles of the Daiwa Securities Group-
We support companies that need funds, from listing support to consulting.
We will continue to support social infrastructure by creating a flow of funds, contributing to the creation of a soil where innovation is easy to occur, and the creation of a more active and stable financial market.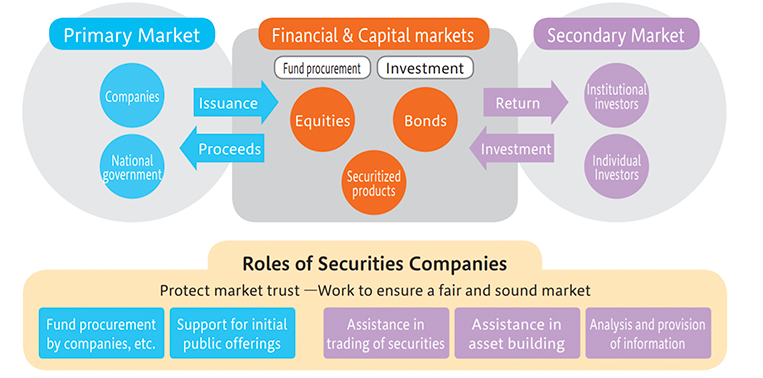 Role 1 Fund procurement by companies, etc.
Companies issue capital by issuing securities (stocks and bonds) and use them to develop new products and provide new services. Financing using these securities will contribute to the growth of the company and the resulting economic growth.
Daiwa Securities Group advises companies and others on financing using securities.
Role 2 Support for initial public offerings
The emergence and growth of new companies is essential for economic growth. The initial listing will not only contribute to the growth of the company but also provide investment opportunities for various investors. The Group is assisting in the initial listing.
Role 3 Assistance in trading of securities
Securities such as stocks and bonds are mainly traded on markets such as stock exchanges.
Securities companies help you buy and sell securities. It is also important to ensure that the securities traded are delivered correctly.
Role 4 Assistance in asset building
The Group offers a wide range of products and services, and offers proposals tailored to customers to help with life planning and asset formation.
Role 5 Analysis and provision of information
Many economists, analysts and strategists provide a wide variety of information that combines the latest trends and in-depth analysis in an easy-to-understand format.
Role 6 Protect market trust
The market for securities is an important infrastructure of society and is built on the trust of participants. The Group strictly manages information and monitors transactions to ensure that the market is fair and fair. We are also actively working on dealing with ever-evolving trading methods and new issues.
Responsible Action as an Institutional Investor
Adoption of "Japan's Stewardship Code"
The Financial Services Agency of Japan published "Principles for Responsible Institutional Investors (Japan's Stewardship Code)" in February 2014. The Code, which has been revised twice, encourages institutional investors to fulfill their responsibilities of enhancing the medium- to long-term investment return for their clients and beneficiaries by improving and fostering the investee companies' corporate value and sustainable growth through constructive engagement, or purposeful dialogue, based on consideration of medium- to long-term sustainability including ESG factors consistent with their investment management strategies.
In our Group, Daiwa Securities and Daiwa Asset Management have announced their adoption of the Code.
Adoption of Principles for Responsible Institutional Investors (Japan's Stewardship Code)
System at Daiwa Asset Management
Daiwa Asset Management became a signatory to the United Nations-supported Principles for Responsible Investment (PRI) in May 2006. It takes into account ESG initiatives taken by companies when making investment decisions, as it considers that such initiatives can lead to expanding growth capabilities over the medium to long term and reducing risks. Moreover, Daiwa Asset Management published its "ESG Investment Policy" in January 2020 to clarify its approach to ESG. In principle, the Policy applies to all investment strategies of the company.
After announcing its adoption of Japan's Stewardship Code in May 2014, Daiwa Asset Management renewed the announcement of its adoption of the Code in September 2020 in line with the revision of the code, and has since been continuously and actively fulfilling its stewardship responsibilities and striving to improve its initiatives. The company's basic approach to stewardship activities is shown in its "Stewardship Policy." Details of its stewardship activities, including status of engagement (such as policy, structure, and a breakdown of activities by category), are released annually in its "Stewardship Report."
Stewardship Activity Structure
The company's framework for stewardship activities comprises the Stewardship Committee, which is responsible for decision-making in relation to practical policies, and the Stewardship Supervisory Committee, which is entrusted by the Board of Directors to oversee management of conflicts of interest in stewardship activities.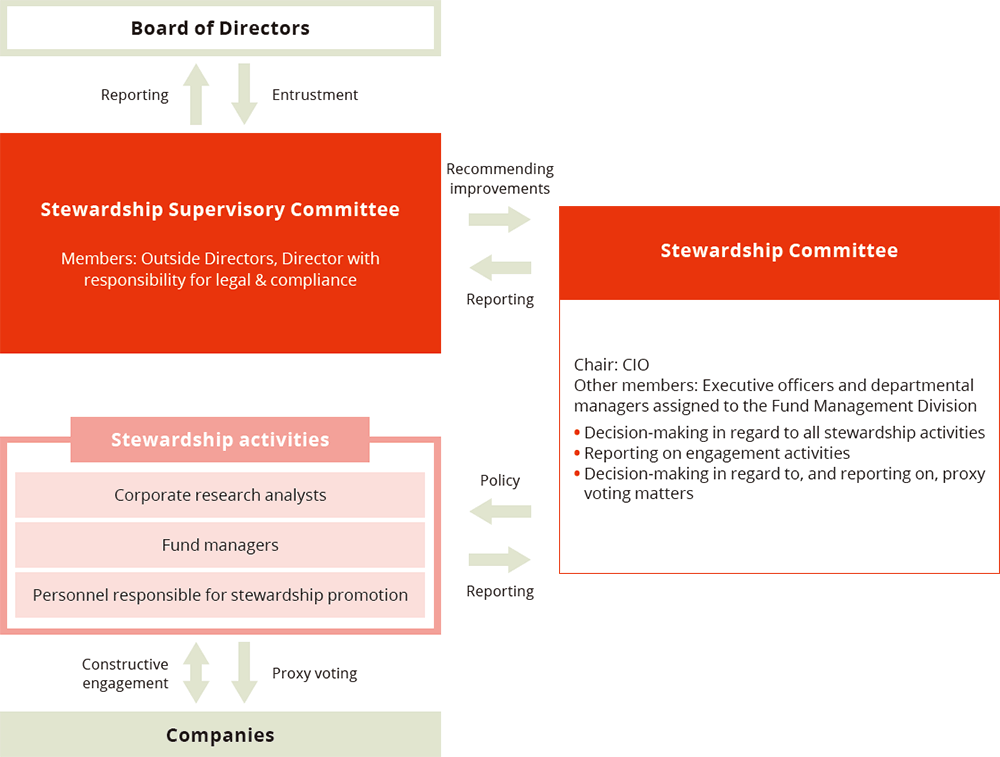 Stewardship Supervisory Committee
The Stewardship Supervisory Committee was set up in January 2017 for the purpose of managing conflicts of interest faced by the company in fulfilling its stewardship responsibilities. The Committee oversees management of conflicts of interest in the company's stewardship activities, reports to the Board of Directors, and issues recommendations for improvement as necessary. The Committee is composed of outside directors and the compliance officer, who is in charge of overseeing the management of conflicts of interest. In that way, independence in the stewardship activities from management and business execution is secured.
Stewardship Committee
The Stewardship Committee formulates basic policies related to stewardship activities, such as the Proxy Voting Policy and the Engagement Policy, deliberates and decides on individual cases when exercising voting rights, and implements initiatives to enhance stewardship activities. The Committee is chaired by the chief investment officer (CIO) and is comprised of executive officers and departmental managers assigned to the Fund Management Division.
Responsible Investment Department
The Responsible Investment Department, which is dedicated to promoting stewardship activities and ESG investment, is mainly responsible for overall stewardship activities, such as the exercising of voting rights in, and engagement with, investee companies, and promotion of integration of ESG into investment processes. The Department was renamed from the Stewardship & ESG Department as of October 2022.
Daiwa Asset Management has released the Engagement Policy, which was formulated with the aim of facilitating dialog that contributes to enhancing corporate value and realizing sustainable growth, and actively engages with companies and organizations in relation to both financial and non-financial aspects, including ESG issues.
Engagement activities are implemented by three key actors: corporate research analysts, personnel responsible for proxy voting, and the Engagement Team (comprised of corporate research analysts and fund managers). In FY2021, the company implemented engaged activities that involved opportunities for direct dialog with 1,230 companies.
Approximately 40% of all engagement activities implemented by the three teams in 2021 focused on ESG issues, and this percentage is on the rise.
Key actors implementing engagement activities and their main activities
Engagement for Passive Funds
As Japanese equity index funds increase as a percentage of assets under management due to the recent growth in the outstanding amount of exchange-traded funds (ETFs) in recent years, Daiwa Asset Management believes that implementing engagement for passive funds is also a clear obligation. Based on the belief that gaining an understanding of the company's stewardship activities is the first step in dialog, since 2018, the company has been sending its Proxy Voting Policy to investee companies included in Japanese equity index funds. In 2021, it also distributed materials outlining its approaches to cross-shareholdings and to diversity and inclusion.
Based on the belief that the exercise of voting rights plays a very important role in realizing the company's corporate principle of contributing to social and economic development through the financial and capital markets, Daiwa Asset Management has made public the details of its Proxy Voting Policy so that as many people as possible can be familiar with the policy.
Starting from shareholders meetings held in April 2017, the company has also made public the outcomes of proxy voting on its website. Regarding the outcomes of voting rights exercised at the shareholders meetings of investee companies, in principle, the individual investee companies and the decisions on each proposal are disclosed on a monthly basis.
Review of the Proxy Voting Policy (for Domestic Stocks) and Issues for Consideration
In June 2022, the Proxy Voting Policy (for Domestic Stocks) was partially revised. Amendments included expanding the scope of companies that are subject to the criteria relating to female corporate officers and changing the criteria relating to outside directors. The criteria relating to female corporate officers was a new standard established in the partial revision made in March 2021 and applied to companies included in the TOPIX 100 index. Based on positive initiatives confirmed through engagement, the standard has now been expanded to cover companies included in the TOPIX 500 index. Issues for future consideration listed in the policy include "decarbonization and carbon neutrality" and "business and human rights."
Incorporating ESG Factors in the Investment Process
Daiwa Asset Management views ESG initiatives of companies and organizations as leading to both an increase in growth potential and a reduction of risk in the medium and long term, and utilizes them in investment decisions. By sharing qualitative evaluations undertaken by its corporate research analysts and fund managers as well as quantitative analysis and evaluations undertaken by its quantitative analysts, the company can achieve corporate evaluations from an integrated perspective that combines financial information with non-financial information. Using the above information and based on the company's approach to ESG, it is able to calculate its own proprietary ESG scores, which serve as reference when choosing which stocks to invest in and determining portfolio risk.
Daiwa Asset Management also takes into account the ESG performance of companies when making investment decisions in relation to bond operations. Since the approach to sustainability through engagement with companies and organizations is the same as for investment in stocks, the company shares and makes effective use of ESG information when investing in corporate bonds too.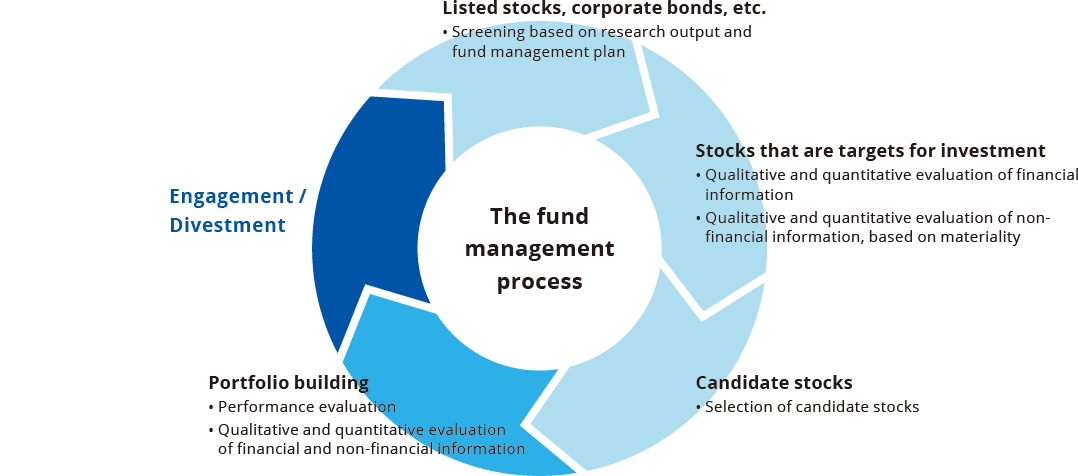 ESG-related Engagement
Looking at ESG-related engagement undertaken in 2021 broken down by category, governance (G) continues to account for the largest share, but the proportions of engagement on environment (E) and social (S) have risen. In 2021, Daiwa Asset Management's particular focus on climate change (20.1%) and diversity (13.3%) are both important categories, accounting for more than 10% each.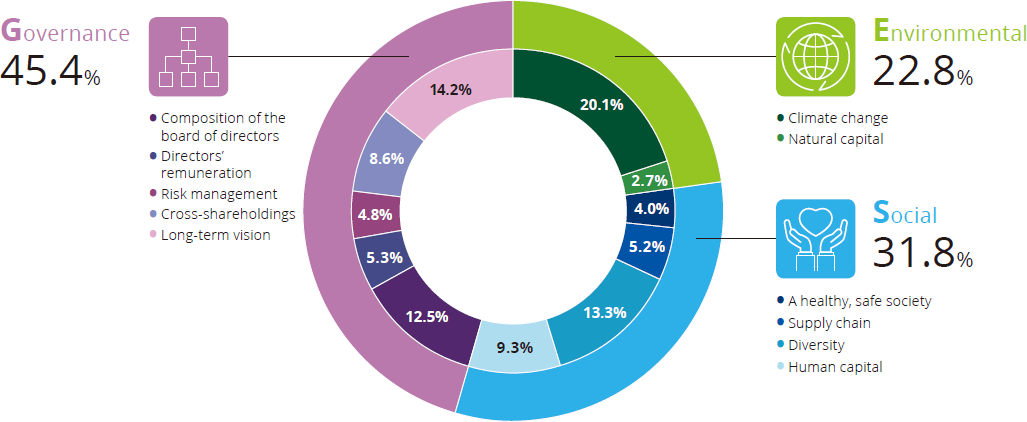 Addressing Climate Change Issues through Stewardship Activities
Daiwa Asset Management's efforts to address climate change issues through stewardship activities are disclosed in its Stewardship Report, in line with the disclosure framework recommended by the Task Force on Climate-related Financial Disclosures (TCFD).
Involvement in Joint Initiatives relating to ESG Investment
Daiwa Asset Management is a signatory to and endorses the following external initiatives.
Category
Name
Date of affiliation
General ESG
The United Nations-supported Principles for Responsible Investment (PRI)
May 2006
Principles for Financial Action for the 21st Century
November 2011
Japan Stewardship Initiative (JSI)
March 2022
Environment
Task Force on Climate-related Financial Disclosures (TCFD)
December 2020
Net Zero Asset Managers initiative
December 2021
Climate Action 100+
August 2021
Investor Agenda
August 2021
Statement on Fiduciary Duty and Climate Change Disclosure
August 2014
Diversity, human rights
30% Club Japan Investor Group
May 2020
PRI Advance
December 2022
Governance
International Corporate Governance Network (ICGN)
April 2021
ESG Education, Training and Exchange of Information
Daiwa Asset Management has adopted "Enhance Global Sustainability" as part of its action guidelines, and is taking systematic measures that will contribute to the sustainable growth of society.
Education and Training for Executives and Employees
Daiwa Asset Management provides all executives and employees with internal training designed to share knowledge of stewardship activities that should be undertaken by an asset management company as well as overall knowledge of ESG. As ESG, in particular, is a field where new initiatives are being taken daily, the company organizes study meetings aimed at the updating of specific themes as needed. In FY2021, the company held a total of seven training sessions and study meetings, including training to deepen understanding of its stewardship activities.
ESG Exchange Meetings for Investee Companies
Daiwa Asset Management places importance on investee companies' ESG initiatives as it considers that such initiatives can lead to expanding growth capabilities over the medium to long term and reducing risks. On the other hand, it became aware during dialogs with investee companies that the investees were struggling with appropriate methods for ESG disclosure and collection of information. The company therefore invites multiple investees and holds ongoing ESG-related information exchange meetings based on the idea that investees' sharing their initiatives and exchanging information with each other will not only be beneficial to the company but also to future initiatives of the investees. The first meeting in February 2021 was on the topic "gender diversity," and the second meeting in May 2022 was on the topic "human capital."
Responsibilities of Our Securities Business