Environmental Management / Initiatives for Environmental Load Reduction
Protecting the global environment, which is the basis of our livelihoods, is essential for a sustainable society. Through our business activities, Daiwa Securities Group contributes to the resolution of environmental issues by developing products that reduce the environmental burden, and also by assisting financing for the development of environmental technologies and infrastructure. At the same time, we are working to establish a system that efficiently collects data on the Group's environmental load. We are also focusing on raising employees' environmental awareness to empower them to reduce the environmental burden in daily business operations.
Through our Sustainability Promotion Structure, we respond to climate change and environmental management.
Environmental Vision
The Group is dedicated to protecting the precious global environment and preserving it for future generations by leveraging financial capabilities.
Environmental Principles
The Group recognizes the importance of environmental principles such as the effort to combat global warming, recycling and reuse of raw materials, and preserving biodiversity, in order to create a sustainable society for the 21st century. The Group pledges to contribute to solving environmental issues through its business as a financial services company and, to constantly seek new ways to reduce its environmental impact as a responsible corporate citizen.
Basic Environmental Policies
1.

Make positive environmental contributions through our core business activities
We shall seek to develop and provide financial products and services that promote a low-carbon, recycling-oriented, and symbiotic society.

2.

Implement an environmental management system
We shall implement an environmental management system and constantly seek new ways to improve environmental activities. In addition, we shall support environmental education and publicity efforts, while promoting environmental protection efforts by employees.

3.

Take steps to save natural resources, reduce energy consumption, and promote biodiversity system
We shall continue to progress in our efforts to reduce the use of natural resources and energy, and seek ways to improve materials and energy efficiency (including efforts to improve business efficiency). We shall also take steps to reduce water use and reduce, reuse, and recycle other materials to contribute to a more environmentally friendly society. Furthermore, considering the importance of biodiversity, we shall seek a symbiotic relationship with the environment and use safe, clean methods of materials procurement.

4.

Promote environmental communication
Working in concert with business partners, the local community, NGOs and NPOs, we shall actively disseminate information about environmental issues, and communicate our concern for the environment to customers and society at large.

5.

Strictly observe environmental regulations
We shall always endeavor in environmental preservation, observing environmental laws and regulations in addition to the Group's environmental policies.
Daiwa Securities Group Inc. (May 22, 2012)
Targets for FY2022
Initiatives for the reduction of GHG emissions
Continue to reduce CO2 emissions by at least 1% compared with the previous fiscal year.

*

On a Domestic consolidated basis

Initiatives for the reduction of electricity consumption
Achieve a reduction of at least 51% in GHG emissions from electricity usage compared with the FY2013 level (as of FY2030)

*

On a per unit area basis

Improve the accumulation of environment-related data hone analytical skills
Continue to introduce eco-cars
Purchase products certified under the Japan's Top Runner Program standards
Our Approach to Green Procurement
Under its Sustainability Promotion Structure, Daiwa Securities Group is working to reduce the environmental load of society as a whole, including the supply chain, in accordance with our Environmental Vision, Environmental Principles, and Basic Environmental Policies. In particular, we are engaging in procurement activities based on Our Approach to Green Procurement.
Our Approach to Green Procurement
1.

We have outlined our commitments to promote green procurement in "3. Take steps to save natural resources, reduce energy consumption, and promote biodiversity system"of our Basic Environmental Policies.

2.

We seek to conserve the environment in our business activities. We therefore prioritize the companies that embrace environmental conservation when selecting suppliers.

3.

In purchasing new equipment, we encourage to procure eco-friendly products for the Group's centralized procurement. Also, we require our suppliers to deliver products that meet Top Runner Program standards in renewing existing equipment.
We require our suppliers and other business partners to understand and comply with our approach in conjunction with our Environmental Vision, Environmental Principles, and Basic Environmental Policies.
Initiatives to Reduce the Environmental Impact of Business Activities
Development and Announcement of Environmental Accounting
As part of our efforts to reduce environmental loads, Daiwa Securities Group prepares and discloses environmental accounting. It is expected to help us to track the costs and effects of environmental preservation more accurately and reduce environmental loads more effectively.
Initiatives at Group Companies
When installing new equipment at head and branch offices, Daiwa Securities requires that the equipment be certified under Japan's Top Runner Program standards. Since FY2019, we have reviewed the status of office equipment at the head office by introducing tablet devices and encouraged the elimination of paper. In FY2022, in addition to shifting to equipment that satisfy the Top Runner Program standards, we plan to curtail environmental impact by reducing excess equipment such as decreasing multifunction copiers by 10%.
We have also been successively replacing our company cars since FY2014 with eco-cars and hybrid vehicles that have significantly improved fuel efficiency. With the completion of the planned replacement, CO2 emissions will be reduced by an amount equivalent to the CO2 absorption of more than 40,000 Japanese cedar trees annually (an estimate by Daiwa Securities using fuel efficiency data disclosed by automakers).
The introduction of LED lighting into the head office of Daiwa Institute of Research was completed in the summer of 2017. In addition, Daiwa Securities Group promotes green purchasing and strives to choose environmentally friendly products in its central purchasing.
Continue to introduce eco-cars


Company cars in Japan (Daiwa Securities) 1,023 vehicles (including eco-cars and hybrid cars; the breakdown is provided below)

| | Introduction results for FY2021 | Introduction plan for FY2022 | As of March 31, 2021 (cumulative) |
| --- | --- | --- | --- |
| Eco-cars | 69 | 187 | 820 |
| Hybrid cars | 61 | 63 | 152 |

Investment in energy-saving air conditioning systems for FY2021 ¥43 million (including installation costs)
Instances of soil and groundwater contamination at office sites in FY2021: Zero
Initiatives to Raise Environmental Awareness
Daiwa Securities Group is striving to raise the environmental awareness of each employee through various initiatives. For example, our in-house magazine, "Fuji," has a column entitled "Eco-Initiatives in the Office." The column mainly shares the status of the Group's environmental initiatives and introduces environmental measures that can be implemented by employees, depending on their individual awareness.
When printing documents, we recommend using aggregate printing and double-sided printing. We also encourage the reduction of paper usage in conjunction with the introduction of tablet devices, as well as displaying operational guidance and the paper usage reduction costs in areas of offices where multifunction copiers are installed. Moreover, as a result of encouraging telecommuting to prevent the spread of COVID-19, we reduced paper consumption by about 16% year on year in FY2021, a substantial decrease.
Offering Environmentally Friendly Services and Working to Reduce Environmental Loads
Daiwa Securities provides environmentally-conscious services and undertakes initiatives to reduce environmental loads as shown below, utilizing mobile work terminals and online trading.
Offering environmentally friendly services
1.

Paperless receipt of documents
We introduced mechanisms to enable customers to open accounts, enter into Fund Wrap contracts, and perform main administrative procedures (such as change of address and notification of deposit accounts) without the use of paper or a personal seal. As a result, in FY2021 a total of 200,000 pages of documents were digitalized (equivalent to about 20 trees planted for paper).
2.

Paperless delivery of documents and introduction of sales promotion materials contributing to reduce environmental loads
We provide e-Member online services that enable customers to check reports provided to customers (transactions balance reports, transaction reports, etc.) and prospectuses online rather than receiving hardcopies on paper.
Reports and prospectuses received in electronic format can, in principle, be accessed and checked online as and when required, saved to personal computers and other devices, and printed for five years after initial receipt.
As of March 31, 2022, about half of Daiwa Securities' customers use this "e-Member" online service. We will continue recommending the service to increase the number of customers using it.
Daiwa Securities also uses LIMEX* in part of its promotional items such as ballpoint pens and seminar bags. We are considering expanding its use going forward.
*

LIMEX is a composite material made from limestone that is expected to reduce environmental impacts. It is a registered trademark of TBM Co., Ltd.
3.

Contributing to paperless operations by companies that use our services
In April 2021, we adopted System Product WEB Services, which provides new technologies to companies that have introduced welfare benefit systems using stocks and so on (such as shareholding associations, workplace installment-type NISA, and defined contribution corporate pensions) or stock-based compensation systems (such as specified transfer-restricted stock (RS) and stock options). We are also contributing to paperless operations for related procedures by companies that have introduced welfare benefit systems.
4.

Proposals encouraging paperless operations throughout the industry
There are some procedures that must be performed on paper due to system-related reasons, but a securities industry working group submits requests to encourage paperless operations and makes recommendations for reducing the environmental impact of the industry as a whole.
Working to reduce environmental loads through business
1.

Paperless internal applications
In the past, a document and seal were required for internal application procedures, but in February 2021, we introduced a mechanism that enables on-screen application and approval, further promoting the transition to paperless operations.
2.

Discontinuation of internal delivery
The distribution of documents within the company has been reduced as a result of these efforts, and accordingly, internal document delivery was discontinued in May 2021. In the future, we will continue to work to reduce delivery vehicles.
GHG Emissions
In comparison with the previous fiscal year, GHG emissions in FY2021 fell by approximately 20% for Daiwa Securities Group's domestic offices, as a result of a positive initiative to conserve energy.
Initiative to Reduce GHG Emissions
We have set up the goal of reducing GHG emissions, while complying with the Act on the Rational Use of Energy and Tokyo's environmental protection ordinances in a continuous and systematic way. In July 2021, we switched to energy originating from renewable energy plants owned by Daiwa Energy & Infrastructure, a Group company, for electricity used in the head office building, and have been introducing renewable energy into other Group properties as well. We have also continued energy saving initiatives, including implementing the "Cool Biz" program, and have continued efforts to save electricity even during periods when there is some margin in the supply and demand of electricity. We will continue these efforts to conserve electricity in the future.
Adaptation to Climate Change
In recent years, concerns have been raised about the risk of large-scale storm and flood damage in conjunction with the occurrence and increase of sea level rise, torrential rains, and super typhoons caused by abnormally high temperatures. The Group anticipates the possibility of physical damage to infrastructure, buildings, and so on at multiple sites as well as increased costs in conjunction with disaster countermeasures. Accordingly, in our business activities, we are continuing efforts to minimize the impact of such damage on operations by duplicating equipment and sites, moving equipment to upper stories of buildings, and so on. Moreover, in addition to higher operational costs for investment real estate, we anticipate declines in the value of assets under management and reductions in business. It is necessary that we review asset holdings and take measures such as ESG due diligence and fostering new industries and companies that contribute to the transition to a decarbonized economy. We will continue working to minimize the transitional risks associated with climate change.
Initiatives in Real Estate Management (Daiwa Real Estate Asset Management Co. Ltd.)
With a view to systematically addressing a variety of ESG related issues, Daiwa Real Estate Asset Management launched a Sustainability Promotion Committee in 2014 and formulated its Policy Regarding ESG in March 2019. The company also established the Sustainability Promotion Office in June 2021, systematically promoting planning, formulation, and implementation related to SDGs and ESG.
Support for TCFD Recommendations
In December 2021, Daiwa Real Estate Asset Management established its Climate Change and Resilience Policy, in order to promote clarification of the policy and system for addressing climate-related issues and expansion of disclosure of the initiatives, and announced its support for the Task Force on Climate-related Financial Disclosures (TCFD) recommendations. In January 2022, the company joined TCFD consortium, a group of Japanese companies that support the TCFD recommendations.
Daiwa Real Estate Asset Management recognizes that climate change is an important issue that has a significant impact on its asset management. The company will steadily promote information disclosure related to climate change, while identifying and analyzing risks and opportunities of climate change based on the TCFD recommendations and continuously working to reduce the environmental impact of its business activities.


Initiatives to Obtain Environmental Certification
Daiwa Office Investment Corporation (DOI) aims to enhance the reliability and objectivity of the results of its efforts to reduce environmental loads in the office buildings it owns, and to increase the medium- to long-term asset value of its properties. To achieve these aims, the company actively promotes initiatives for acquiring external environmental certifications, such as CASBEE for Real Estate certification*1, DBJ Green Building Certification*2, and BELS Certification*3. As of the end of May 2022, 31 of the properties owned by DOI have acquired environmental certifications, with the environmental certification acquisition ratio reaching 61.3% (based on the total floor area of owned properties), as shown below.
| | As of May 31, 2020 | As of May 31, 2022 |
| --- | --- | --- |
| Number of properties with environmental certification | 6 properties | 31 properties |
| Environmental certification acquisition ratio | 23.6% | 61.3% |
*1

CASBEE for Real Estate Certification: An environmental performance evaluation system for buildings that was developed primarily by the Ministry of Land, Infrastructure, Transport and Tourism. It is a system that evaluates the overall environmental performance of a building based both on an evaluation of the environmental quality and performance of the building itself and an evaluation of the environmental load imposed outside the building.

*2

DBJ Green Building Certification: A certification system created by the Development Bank of Japan (DBJ) to support environmentally and socially responsible real estate.

*3

BELS Certification: A third-party certification system that rates housing and other buildings based on their commitment to disclosing energy-saving performance under the Act on the Improvement of Energy Consumption Performance of Buildings.
Initiatives at Rental Residences
Daiwa Securities Living Investment Corporation has been advancing initiatives for environmental conservation. For example, it is introducing LED lighting, energy-saving air conditioners, water-saving showers and toilets, and eco-friendly wallpaper into the rental residences it owns. It also posts notices in the residences, encouraging residents to save electricity, water, and other resources.
The company is also promoting the installation of delivery boxes. As of the end of March 2022, the delivery box installation ratio in its rental residences reached 85.7% (based on the number of buildings). As the installation of delivery boxes will not only improve the convenience of tenants but also lead to reductions in CO2 emissions associated with redelivery, the company aims to maintain and raise the installation ratio going forward.
Status of FY2021 initiatives

| | |
| --- | --- |
| Installation of LED lighting: | 1,060 units |
| Installation of energy-saving air conditioners: | 1,053 units |
| Water-saving showers: | 258 units |
| Water-saving toilets: | 50 units |
| Replacement with eco-friendly wallpaper: | approximately 90,000 m2 (reductions of CO2 emissions: approximately 17 t-CO2) |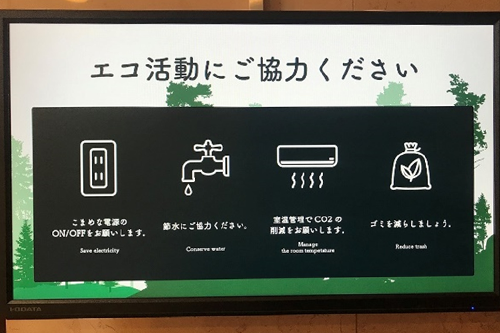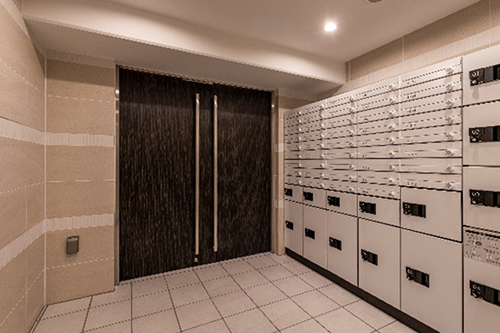 Survey and Research Work Contributing to Carbon Neutrality (Daiwa Institute of Research)
Daiwa Institute of Research (DIR) has been commissioned to undertake survey and research work by the New Energy and Industrial Technology Development Organization (NEDO) toward the realization of a hydrogen society as an initiative that contributes to carbon neutrality. The commissioned work encompasses the collection and analysis of information on the latest trends across the world concerning hydrogen fuel cells, as well as identification of issues for development strategies in hydrogen fuel cell technology in Japan.
The survey and research work is aimed at timely collection and analyzing of a wide range of the latest information on hydrogen fuel cells, and sharing it with relevant parties in Japan, toward the realization of a hydrogen society, taking safety and the environment into consideration. The information includes policies and markets for hydrogen fuel cells and research and development trends across the world, including in the U.S., Canada, EU countries, China, and South Korea As part of these activities, DIR visits international institutions and attends international meetings.
In recent years, carbon neutrality and the energy transition toward carbon neutrality have become global trends, and the movement to position hydrogen as an indispensable technology and accelerate this movement is spreading throughout the world. Until now, Japan, the U.S., and Germany have taken the lead, but various countries, such as China, South Korea, Australia, and European countries, have recently been searching for uses of hydrogen suited to their individual objectives.
The work is also aimed at identifying issues for Japan's strategy for developing hydrogen fuel cell technology going forward by accurately understanding, assessing, and analyzing developments in other countries.
In this way, DIR will be proactively engaged in business related to development of new energy sources that are environmentally friendly.
Environmental Management / Initiatives for Environmental Load Reduction