Engagement with Shareholders and Investors
Daiwa Securities Group works hard to promote communication with shareholders and other investors. We will strive to provide shareholders and investors with improved communications and information that are easy to understand.
Breakdown of Shareholders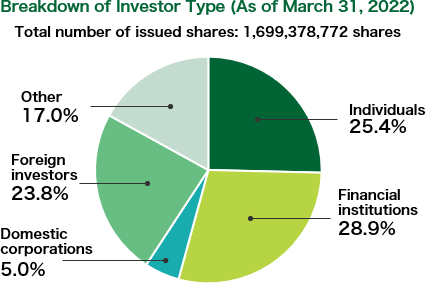 At Daiwa Securities Group, we strive to balance efficient capital management, investment in growth that contributes to improving corporate value, and active returning of profits to shareholders based on our solid financial foundation in order to achieve sustainable growth by earning healthy profits. We aim for expansion through a capital recycling model that places emphasis on capital efficiency.
Daiwa Securities Group Inc. strives to continuously enhance shareholder value, including profit distribution. In principle, dividends are paid semiannually (interim and year-end dividends) at a payout ratio of 50% or more based on consolidated financial performance. However, after taking stability into account, when we can secure a sufficient amount of internal reserves required for future business development, we intend to increase returns to our shareholders, including share buybacks.
We raised the target payout ratio from about 40% to at least 50% in FY2018. When we can secure a sufficient amount of the internal reserves required for future business development, we intend to increase returns to our shareholders, including share buybacks. The full year dividend payout ratio was 52.3% in FY2021.
Share buyback program

*The program was announced on April 27, 2022 along with the announcement of financial results for the fourth quarter of FY2021
Buyback period
From May 18, 2022 to March 24, 2023
Total number of shares repurchased
33 million shares (maximum)
(Percentage of total number of issued shares excluding treasury stock: 2.22%)
Total amount of shares repurchased
¥25 billion (maximum)
The Group has formulated a Disclosure Policy, which outlines the Group's basic approach to information disclosure, and strives to provide information that is fair, timely, and appropriate.
As a company engaged in the securities business, we are committed to fair information disclosure in accordance with the Fair Disclosure Rules so that we will be a role model for other listed companies. We will strengthen disclosure not only of financial information, but also nonfinancial information with social and environmental aspects that are not apparent in the financial figures in the short term.
Communication with Shareholders and Other Investors
Every year, many shareholders attend our general meeting of shareholders, which is an opportunity for us to interact directly with everyone. For the general meeting of shareholders held in June 2022, we recommended that shareholders refrain from coming to the venue on the day of the meeting from the perspective of preventing the spread of COVID-19. Meanwhile, we enabled shareholders who did not come to the venue to watch the meeting on the Internet.
To increase communication opportunities, we also carry out various IR activities. These include telephone conferences on the days of earnings announcements, briefings about the company for individual investors, management strategy briefing sessions, one-on-one meetings with institutional investors and analysts in Japan and overseas, and participation in Daiwa Investment Conferences held within and outside Japan.
From February 2020, we started refraining from holding briefings at venues and one-on-one meetings from the viewpoint of preventing the spread of COVID-19. However, we have been actively engaging in dialogue using alternative methods such as websites and telephone to continue to communicate with our shareholders.
In addition, we are further developing information disclosure on our IR websites and publishing integrated reports and business reports for shareholders. We will continue working to make our communications even more precise and easy to understand for shareholders. Feedback and questions received from shareholders are reported to the CEO and other management personnel, as well as at Board of Directors meetings.
Questionnaire for Shareholders
We distribute a questionnaire to shareholders coinciding with the distribution of rewards under our shareholder rewards program at the end of September, to gather and incorporate their views into management and IR activities. The findings of these questionnaires are utilized to enhance satisfaction with the shareholder rewards program and to improve our business operations.
Shareholder Rewards Questionnaire Contents at the End of September 2021
When did you first purchase our shares?
Why did you choose to buy Daiwa Securities stock? (multiple answers allowed)
How do you get information about Daiwa Securities? (multiple answers allowed)
What types of disclosure and corporate communications activities would you like to see enhanced in the future? (multiple answers allowed)
Shareholder Rewards Program
Daiwa Securities Group Inc. has been implementing a shareholder rewards program for over 10 years to express our continuing gratitude to shareholders. We also introduced a catalog system for rewards at the end of March 2008. Reward products are provided semiannually, at the end of March and September. Shareholders can choose from 30 items such as regional specialties, charitable donations, and "Kaisha Shikiho," a quarterly journal on investment.
Starting with the shareholder rewards offered to shareholders of record on September 30, 2017, if shareholders request reward items on our website, we donate ¥20 per case to "Daiwa Securities Group Children Support Fund for a Bright Future," established in the Public Resources Foundation. We thus support activities for improving the environment surrounding children and breaking the cycle of poverty through NPOs engaged in fighting child poverty.
It also became possible to select donations to Single Mothers Forum, a certified NPO, and the Shareholders Incentives Endowment Fund for the SDGs, established by the Japan Securities Dealers Association, as a donation recipient group from the shareholder rewards offered to shareholders of record on March 31, 2019.
The contributions made for the NPO will be used for initiatives to give congratulatory money to children in single-parent households who enter elementary, junior and senior high schools and colleges and the donation for the Endowment Fund will use to support school meals at the United Nations WFP, which conducts food support activities for the purpose of eradicating hunger.
Starting with the shareholder rewards offered to shareholders of record on September 30, 2019, we have been gradually expanding our shareholder rewards programs in collaboration with our Group companies. More specifically, we have enabled shareholders to receive a discount on the initial cost of private nursing homes under the name of "Good Time Living" and rental residences for the elderly under the name of "Platesia," both of which are operated by Good Time Living Co. Ltd. We have also added preferential services that can be used when staying at hotels owned by Daiwa Hotel Private Investment Corporation, as well as discounts and preferential services provided at hotels and golf courses in which Daiwa PI Partners Co., Ltd. invests. In this way, we provide shareholders with opportunities to receive a variety of preferential services at facilities related to the Group.
Initiatives in FY2021
Dialogue with Various Stakeholders
In FY2021, we held a total of 191 meetings with institutional investors and analysts. To prevent the spread of COVID-19, we held all these meetings by phone or online and continued to actively disseminate information contributing to the improvement of the Group's corporate value. We communicated our Medium-Term Management Plan started in 2021, an overview of our management policy, and other information efficiently and effectively in earnings announcements and management strategy briefing sessions, as well as in integrated reports and business reports. For institutional investors in Japan and abroad, we implemented effective activities suited to each investor base, and held telephone conferences by top management with overseas institutional investors. With regard to ESG dialogue and investment, in December 2018, we held an ESG meeting for institutional investors and analysts, with outside directors participating. From FY2019, we conducted one-on-one ESG meetings, exchanging opinions with institutional investors. The topics for these meetings varied widely, including materiality (important management issues), the status of responses to TCFD, Net Promotor Score (NPS), the effectiveness of the Board of Directors, cross-shareholdings, and director compensation systems. In February 2022, we held a theme meeting for institutional investors and analysts targeting the real estate asset management business and Daiwa Energy & Infrastructure Co. Ltd. of investment division.
We also focused on briefings for individual investors, with the CEO participating. As all of those were held online from the perspective of preventing the spread of COVID-19, we were able to attract the participation of more investors and larger audiences than in FY2020. At these briefings, we provide a question and answer session and conduct a survey, thereby obtaining diverse feedback to use for the improvement of communication with individual investors in the future.
Number of overseas IR activities held in FY2021

Number of meetings with institutional investors and analysts
(all held by phone or online)
191 meetings
including IR activities with investors in North America:
11 events
including IR activities with investors in Europe:
19 events
including IR activities with investors in Asia:
30 events
Number of briefings for individual investors
(all held online)
8
Video streaming of company briefings for individual investors:
2 video streams
Total number of live participants and on-demand video viewers Approx.
18,700 (approx. 17,600 people in the previous fiscal year)
Engagement with Shareholders and Investors