Message from CEO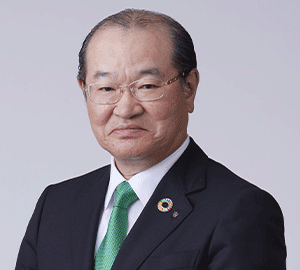 In FY2021, Daiwa Securities Group set out the management vision "Vision 2030" and announced their "Net Zero Carbon Declaration" that includes reduction targets for greenhouse gas emissions.
In recent years, transition finance has attracted attention as a financing mean towards transition to a carbon-neutral society. Support for the financing of companies' efforts to solve social issues, including transition finance, is one of the important missions of a comprehensive securities group.
In May 2022, Daiwa Securities Group marked it's 120th anniversary. In its long history, the Group has fostered the pioneering spirit of continuously implementing new innovations. We will continue to evolve with the times, and unite as one to create a new sustainable capital cycle towards realizing the SDGs.
Message from the Head of Sustainability
In the world surrounding us, there are still a large number of social issues that are unresolved, and companies are expected to take further action towards 2030—the target year for the SDGs.
Against this backdrop, we have positioned "Vision 2030," as a set of action guidelines and are encouraging all employees to "own" SDGs. We are also exploring ways in which, we as the Daiwa Group can contribute in achieving the SDGs.
As the importance of ESG based corporate evaluation increases, the move to develop a universal standard for sustainability disclosure is gaining momentum.
Utilizing our sustainability website, we will endeavor to improve our disclosure to reflect the development of our activities.
We will continue our challenge in hope of meeting your expectations.